Surgery Admission Information
Important Admission Information
Withhold food from 10pm the night before for dogs and cats. Allow access to water.  Pocket pets (rats, rabbits, guinea pigs etc.) do not need to be fasted and you should bring some food from home in a sealed container, or  in their carrier.  Please also bring an empty water dispenser to attach to their cage.
Bring along any current prescription medications for your pet and the time of your pet's last dose.
An allocated admission time with a nurse will be given at the time of scheduling the procedure. In some cases your pet will need a vet review on the morning of the procedure. The nurse will inform you if this is required at the time of booking your procedure.
Additional safety measures: The admissions nurse will discuss intravenous fluids and/or a pre-anaesthetic blood test for your pet's procedure, both of which increase safety (additional costs may apply).  The benefits of these will be discussed when you drop your pet off. Please note: for some pets e.g. older or unwell patients, the vet may advise these extras are mandatory for the health and safety of your pet, and have already included these in the estimate.
Your pet's discharge time will be based on their recovery. We aim to call you once your pet is in recovery, however due to the nature of the clinic this is not always possible, so we will ask you to call the clinic for an update after 2pm if you have not yet heard from us.
When you pick up your pet, you will have a discharge appointment with either a vet or a nurse (depending on the procedure). You will be given home care information, medication instructions and the procedure will be discussed with you. On rare occasions the vet may not be available due to other procedures, in which case they will discuss your pet's case over the phone, and a nurse will hand over medications and after care instructions when you pick your pet up.
The day after the procedure, one of our nurses will phone you for a follow-up call on your pet and to answer any questions you may have. After all procedures, you will need to book a follow-up appointment; this may be a complimentary nurse check, or a revisit with the treating vet (fees apply). You will be advised what is required at the time of discharge.
SURGICAL ADMISSION CONSENT FORM TERMS & CONDITIONS

I agree to my pet receiving treatment on the following terms:
1. I am the owner of the animal above or I am the agent described above acting with full authority from the owner to give consent for the services described below.
2. I can be contacted on the above phone number at all times on the day of the procedure.
3. In the event that I am not contactable, I hereby give full consent for any additional procedures considered necessary by a vet. Unforeseen circumstances can arise which require more involved treatment and additional costs. I agree to meet those costs. [The hospital staff will endeavor to contact me should the fees vary significantly from the estimate]
4. I understand the Fee Range given below for the Main Procedure is an ESTIMATE only. The Main Estimate below does not include any requested additional procedures.
5. I understand that all due care will be taken in providing these services, but that some risks do exist. I understand that Pre-Anaesthetic Blood Testing is a step in identifying anaesthetic risk, and that administering intravenous fluids is a means of reducing anaesthetic risk.
6. I agree to images of my pet being used for hospital promotions and/or social media.
7. I acknowledge that any estimate given for a dental procedure is subject to thorough examination of the patient's mouth under general anaesthetic, and is subject to change as a results of this examination.
8. I agree to pay all fees at the time of discharge from the hospital.
Our highly equipped surgical suite is an accredited and sterile environment for all kinds of surgeries, ranging from mass removals, orthopedic surgery, cancer surgery, and much more.
Preparing for surgery
If your pet requires surgery our friendly staff will explain to you exactly what's involved and what you'll need to do, but here are the basics.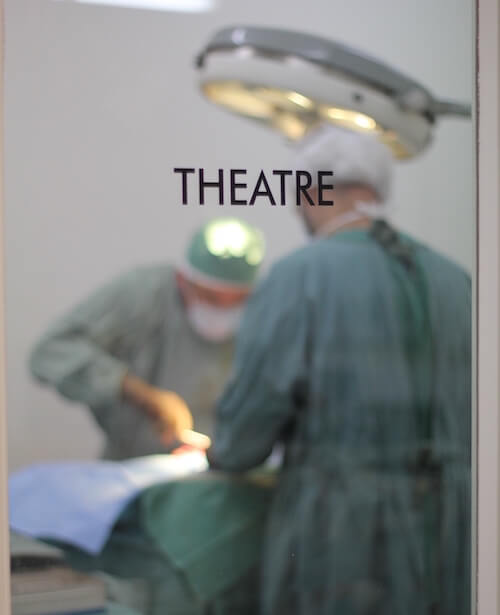 In the morning
The pet will be admitted into our surgical ward in the morning. You can accompany your pet to help them settle in and our dedicated staff will be on hand to care for your pet. We'll do a pre-anaesthetic exam, and usually sedate your pet a few hours before the surgery is scheduled.
During surgery
General anaesthesia will be administered by our expert surgeon, and surgery is performed under close observation from the team of experienced nursing staff. Blood pressure, breathing rate and blood oxygen levels are monitored while our expert surgeon carries out the operation. We continue to monitor the pet during the recovery stage and they will be clean, dry, warm and settled.
What then?
In most cases pets are able to return home once they are awake, walking, and have their pain under control. If there are any concerns about a pet's recovery we may keep them overnight for observation – your pet's health is our top priority. Once your pet has returned home, Whitehouse Veterinary Hospital will provide you with comprehensive post-surgery care instructions.
Contact Us
Phone: 03 9878 3033
Visit Us
231 Whitehorse Road
Blackburn, VIC 3130
Hours
Monday to Friday: 8:00am - 7:00pm
Saturday: 8:00am - 1:00pm
Sunday: CLOSED

Mon-Fri: 8am - 7pm
Sat: 8am - 1pm
Sun: CLOSED