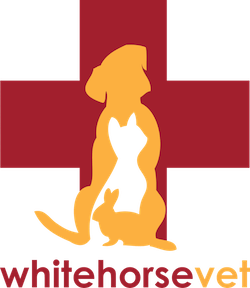 Covid-19 Notice
We are implementing new ways to help maintain the health and safety of our staff, our clients, and our patients. 
With over 40 years of experience your pet will get the best veterinary diagnosis and treatment available at Whitehorse Veterinary Hospital. Delivering health care from your pets point of view will ensure your pet is pain-free, healthy and happy. 
Amazing is not even close to describe the staff over there. They were fantastic! Incredible! Super helpful! They know their stuff and are ready to help in no time.
– Etienne L, Google review
The best vet practice that I have been to. They bend over backwards to help owners out. It now takes me over an hour to drive here but it is worth it for the service you get.
– Beth S, Facebook review
My dogs are kept healthy and are always happy, which is a testiment to the professionalism and respect that Whitehorse Vet shows every time we visit.
– Courtney W, Google review
We took our pet rat to see Dr Rod and were very pleased with his knowledge and caring. Rod clearly knew what he was talking about, and the rat quite liked him (always a good thing).
– Bonni H, Facebook review
Every pet is valued by the staff. There passion for the best for my dogs has always been equal to mine. I trust the staff to care for my furbabies and have no hesitation in recommending this clinic to all.
– Beverley W, Facebook review
Have been a client since I moved to Blackburn in 2004, and am 110% happy. My neighbour has been a client since 1996 and is equally as happy.
– Damian L, Google review
Your Local Petcare Experts
Why you can trust us …
1. We guarantee the best possible outcome for your pet, with compassion, ultimate care and professionalism
2. Your pet can be on the road to recovery sooner with an early and accurate diagnosis using state of the art equipment and facilities
3. The best tools and knowledge to get your pet well fast!
4. The highly equipped theatre suite is accredited for your pet's surgical needs
5. A full range of basic to complex surgeries to provide pets with the care they deserve
Opening Hours

Monday to Friday: 8:00am – 7:00pm
Saturday: 8:00am – 4:00pm
Sunday: 9:00am – 1:00pm
Make a Booking

Need to make an appointment? Book your next visit online, quickly and easily.

Making Pet Ownership A Breeze
Quick Question?
Call our friendly staff for great advice. Take the guess work out of pet care!
New Furbaby?
Relax with our simple treatment guide for new pet owners.
Need Training Help?
Convenient and fun, our Puppy Preschool makes training easy.
Love Your Pet? So Do We! They'll live longer, happier and healthier with best advice and care from our team!