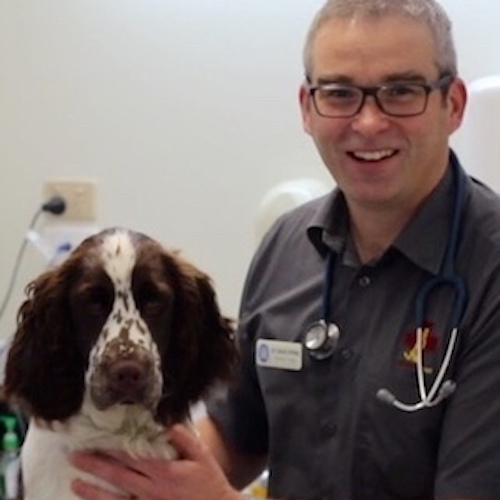 Dr Shaun Wynne
Hospital Director & Senior Veterinary Surgeon
BVSc (Hons) 1991 & MACVS (Surgery) 2005
Bio
Shaun began his journey at Whitehorse in 1983 as a high school student completing work experience. Shaun returned as a university student in 1991 and worked for 2 weeks as a veterinary Student. In 1998 Shaun became a full-time Senior Veterinarian working beside Dr Peter Cullen and then in 2006 Shaun bought the practice off Peter! Shaun has over 20 years of experience in the Veterinary Industry and has achieved great things during his time at Whitehorse.
Special interest: Member of Unusual and Exotic Pets Group of the AVA. Shaun has over 20 years experience with all pets, including Rabbits, Rats, Guinea Pigs, Birds and other Pocket Pets.  Since passing examinations to be admitted as a member of the Australian College of Veterinary Surgeons, Shaun's main interest has been advanced surgery. This includes Advanced Knee surgery (stifle), TTO – Triple Tibial Osteotomy surgery, TPLO – Tibial Plateau Levelling Operations, de-Angelis suture and a range of other orthopedic surgery. 
Most memorable veterinary moment:  A pug presented in respiratory distress on a particularly hot day. He sounded like a clogged up, overheated steam train. His throat was occluded by an excess of soft tissue, his nostrils were closed over and the little pockets next to his vocal chords (in his larynx) had everted. All this is called BOS – Brachycephalic Obstructive Syndrome, and it had put little "Buster" into life-threatening Heat Stroke. We gave him a "nose job" (rhinoplasty), a soft palate resection and we cut out the everted laryngeal saccules – all referred to as BOS surgery. After we cleared his airways, his energy levels increased better than they had been for years and he could breathe easy. For some years prior to surgery his loud snoring had filled the bedroom, and because Buster's owner was used to the background noise, she had some adjusting to do, waking several times a night to check that he was OK. 
Proudest moment: Passing exams to be a member of the Australian College of Veterinary Surgeons in Small Animal Surgery
Family: Married to Kristen (a physiotherapist and owner of Ashburton Physiotherapy and Pilates Centre) with a son, Jack 15, Mia 12 and Lucy 9 (You can see Lucy on her vintage bike with teacup sized Alfie in the basket on our rotating photos at the top of our website)
Pets: Teddy – 4 year old brown labradoodle. At 12 weeks of age he ran under the car of a moving vehicle in the driveway at Shaun's parents farm (The Heath Bed & Breakfast). Teddy fractured his leg through the growth plate in the hip. Shaun & Rod reconstructed his hip with 2 stainless steel pins. He has made a full recovery and apart from having one leg slightly shorter than the other, he has been running around at full speed ever since! Shaun opened his arms up to two stray kittens that were brought in to Whitehorse naming them Ace and Asher. The latest addition is a teacup maltese x chihuahua called Alfie. Shaun now has his hands full but enjoys hearing all his furry friends play around his house.
Personal Hobbies: Playing 'Mr. Mom' when Kristen works late, watching football and going on camping trips.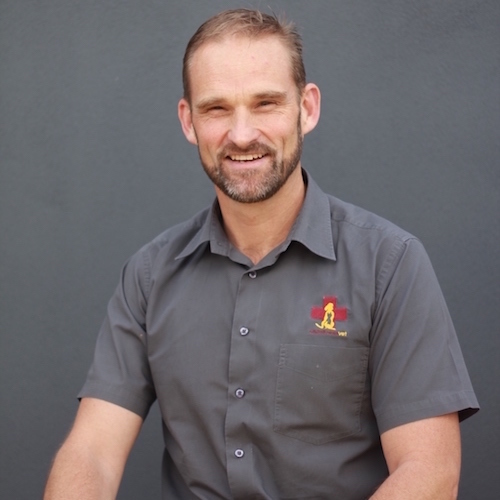 Dr Rod Wynne
Senior Veterinary Surgeon
BVSc (Hons) 1988
Bio
Dr Rod first came to Whitehorse Veterinary Hospital as a veterinary student in 1984. He graduated from Melbourne University in 1988 with honors and worked in our local area until 2001. Rod worked for the Salvation Army from 2001 to 2005 in Melbourne, before working as a vet in Adelaide from 2005 to 2008. Rod joined our team again in 2008 as an experienced full-time vet.
Special Interest: 25 years of experience as a vet means Rod has seen most things. Rod particularly enjoys microscope work, conditions of the skin and ears (such as allergies) and dealing with lumps, bumps and cancer diagnosis, surgery and chemotherapy
Most Memorable Veterinary Moment: A vet nurse's Akita dog presented in severe distress. Having to think quickly, Rod listened to the chest and immediately knew he had to puncture the chest in a life-saving move that released pressurized air from the chest cavity. Having temporarily saved his life, he underwent surgery to remove a ruptured lung and went on to make a good recovery.
Family: Married to Lisa (Children's Pastor of Activate Church in Ringwood) with 2 sons, David 22 and Matt 21 and daughter Michaela 19
Personal Hobbies: Fishing and Golf with the boys.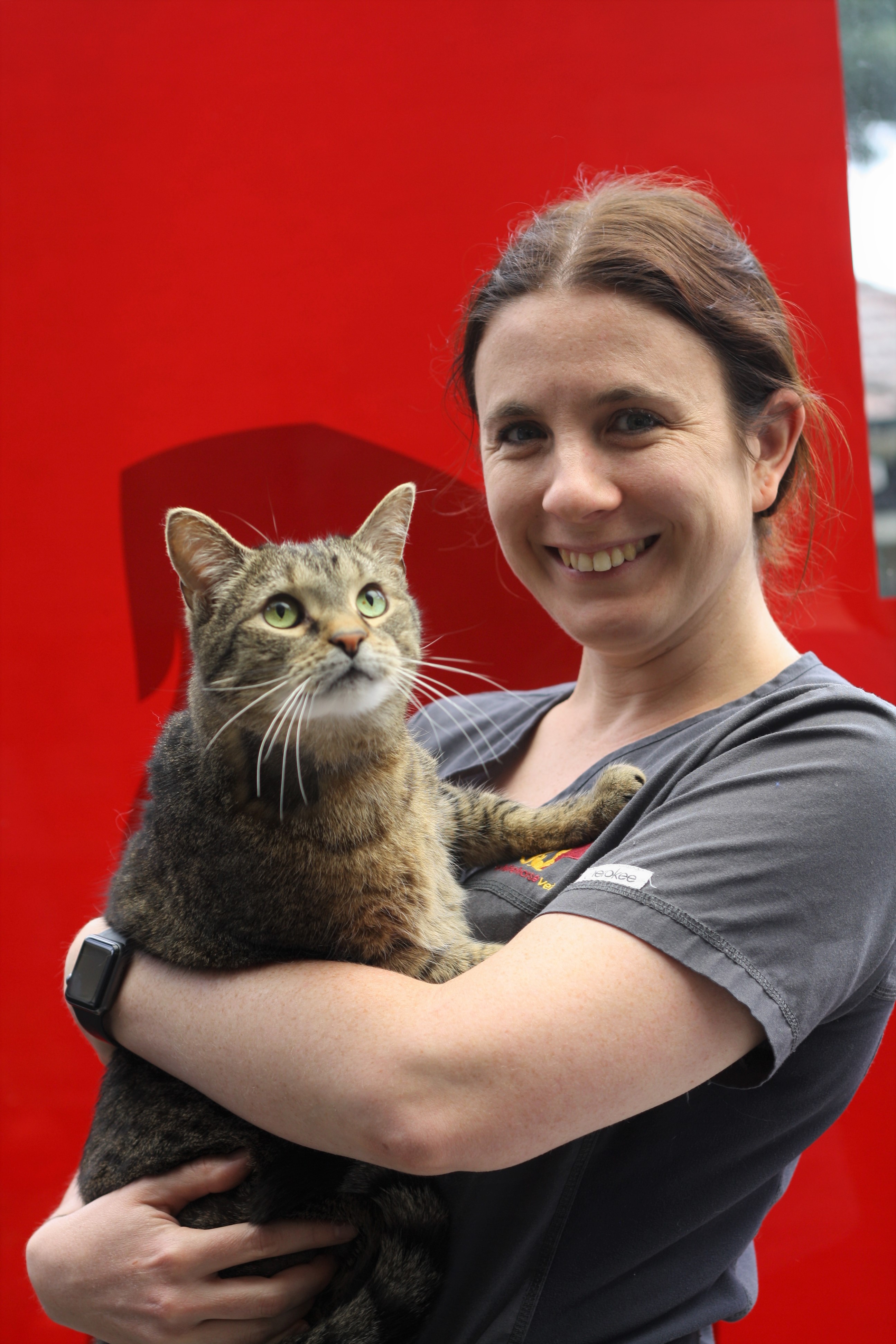 Dr Stephanie & Spike
Veterinary Associate
BVSc (Hons) 2010, BAnSc & MGT, MVS
Bio
Stephanie graduated from the University of Melbourne with honors in 2011. After graduation she returned to her home town of Canberra and worked in a busy small animal practice.
She returned to Melbourne in 2014 and completed her Masters of Veterinary Clinical Studies (through Murdoch University in 2017), whilst working in a small animal practice in Inner Melbourne.
Stephanie joined the team at Whitehorse Veterinary Hospital in July 2018.
Qualifications: Bachelor of Veterinary Science (Hons), Bachelor of Animal Science, MGT & Masters of Veterinary Studies
Special Interests
Stephanie enjoys all things medical be it working up a patient that is suddenly very ill or managing patients with multiple long-term illnesses.
Stephanie has recently commenced a post-graduate course in ultrasound imaging to further aid in diagnosing all medical conditions.
Family
Stephanie and her fiance Huw share their home with their much loved and doted on cat "Spike".
Hobbies
Stephanie's hobbies include active pursuits such as hiking, camping and cycling. She also enjoys more sedate activities like cooking, sewing and reading.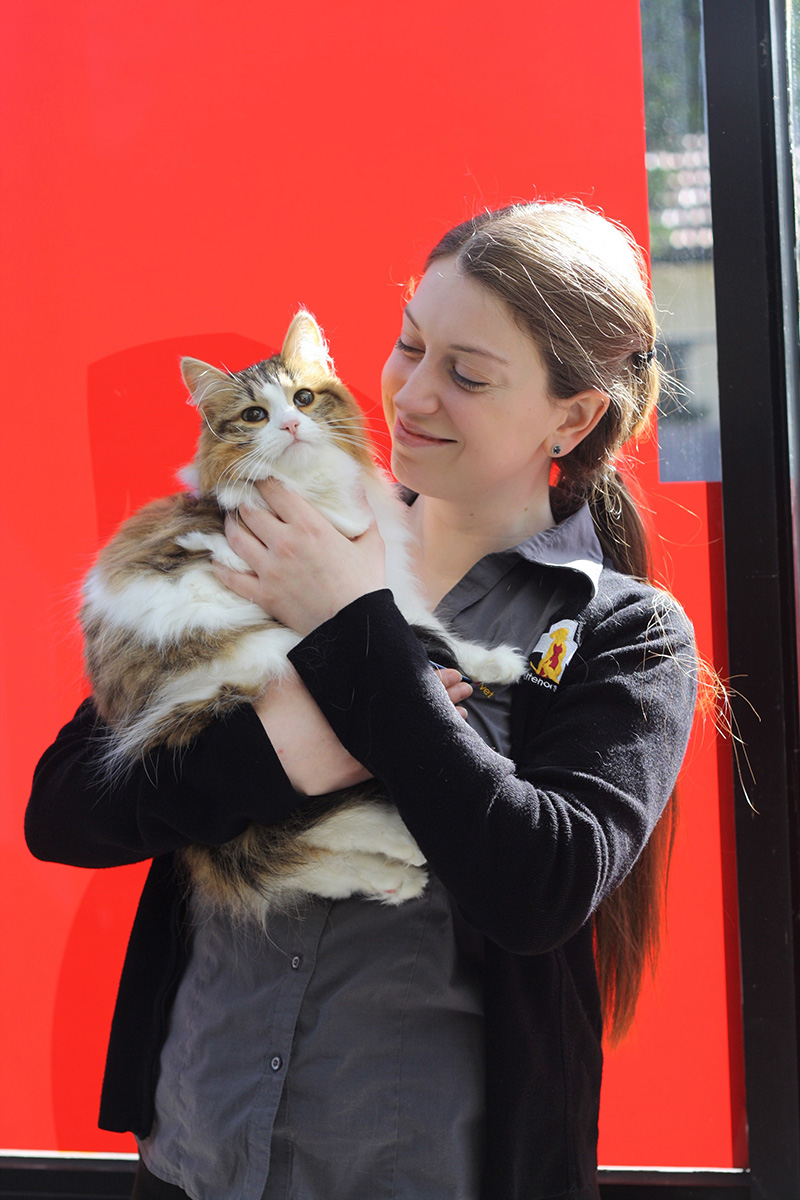 Dr Hazel & Juniper
Veterinary Associate
Bio
Hazel joined the WVH team in 2016 as a New Graduate Veterinarian. She completed a rotational placement with the hospital during her final year of Veterinary Medicine, we all loved her so much that we offered her a Full time position as soon as she had graduated. Hazel has fit in with the entire team so seamlessly, she has a fantastic rapport with our wonderful clients and patients alike.
Qualifications: Doctor of Veterinary Medicine, Bachelor of Science
Special Interests: Hazel has a special interest in Feline Medicine, however she enjoys seeing all Companion animals. Hazel thoroughly enjoys the daily variation of involved tasks in working as a Veterinarian. Working between Consulting, performing surgeries, working up cases with diagnostics and everything in between.
Pets: Hazel has recently welcomed a beautiful Siberian kitten named Juniper, who is super smoochy & loving.
Personal Hobbies: Hazel enjoys cooking and dining out, following AFL (Hawks supporter), playing piano and spending time with her friends and family.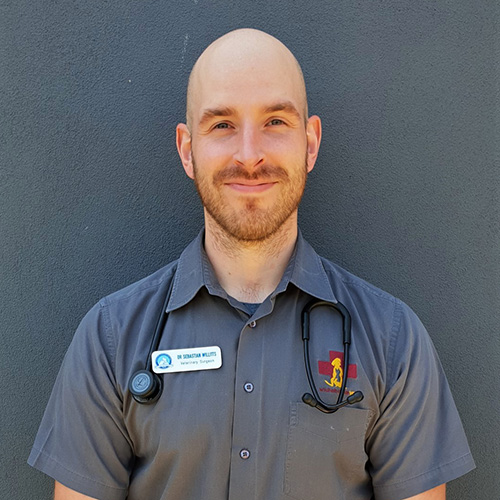 Dr Sebastian Willitts
Veterinary Associate
DVM 2018, BA, BSc (Biochemistry), BSc (Vet. BioSc)

Bio
Sebastian has been with us since the start of 2019. He is a Canadian cold weather refugee who has fallen in love with Australia and now proudly calls Melbourne home. With a background in Asian language studies and Biochemistry Sebastian decided to go a step further and study Agriculture at Melbourne University. This sparked his interest in production animals and farming which ultimately led down the path to becoming a Veterinarian.
Qualifications: Doctor of Veterinary Medicine, Bachelor of Science (Biochemistry), Bachelor of Science (Veterinary Bioscience), Bachelor of Arts (Asian Language Studies)
Special Interests: Sebastian has a passion for developing his surgical and anaesthetic skill set and is constantly looking for ways to improve patient care and wellbeing.
Pets: Sebastian cares for 2 Oodle mixes, a small grumpy one, and a large goofy one. These boys are a stop gap for when he can move to property and have ducks, goats, sheep, cows and a Donkey.
Personal Hobbies: Sebastian devours history books, and when not busy studying up on cases or learning a new language can be seen jogging around Blackburn lake or making spaghetti.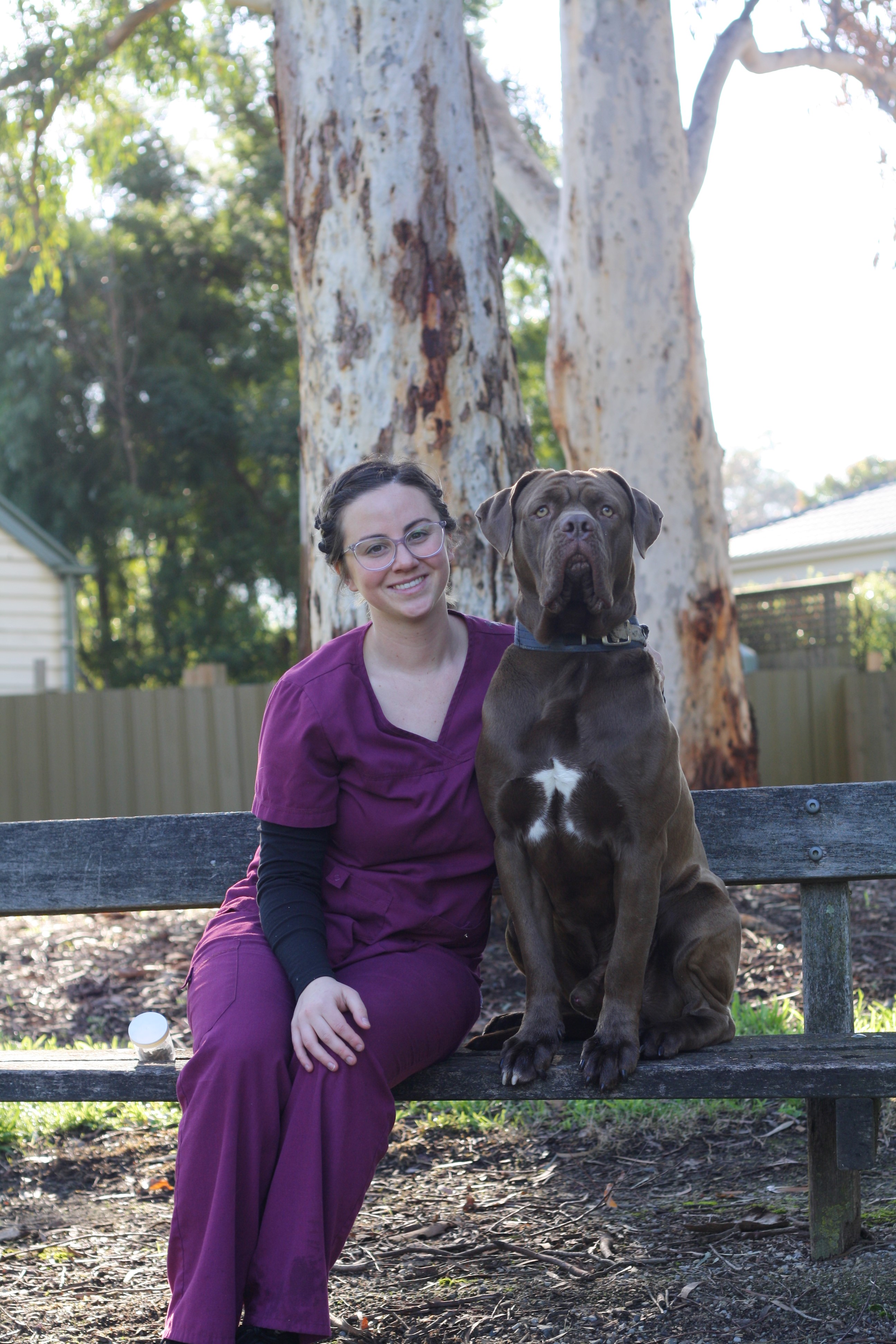 Abbey & Hans
Practice Manager (Full Time)
Cert IV Veterinary Nurse. Dip. VN (Gen)

Bio
Meet Nurse Abbey!
Abbey started at Whitehorse in 2013 as a trainee whilst completing her Certificate IV in Veterinary Nursing at Box Hill Institute. Abbey moved to the country in 2016 & explored nursing for mixed animal practices in Wangaratta & Mansfield.  Abbey has recently returned to Melbourne & has joined our team again and is enjoying seeing all the familiar faces of our clients & patients.
Qualifications: Certificate IV in Veterinary Nursing & Diploma of Veterinary Nursing (General)
Special Interests: Abbey enjoys many aspects of nursing which include all things feline & nursing patients back to optimal health through surgical & medical nursing.
Pets: Abbey has three dogs, Blaze the Kelpie, Effie the German Wiredhair Pointer & Hans the Neapolitan Mastiff, and a very spoilt cat called Lucky. Between Abbey's animals they have had a variety of accidents including, Effie receiving snake bite treatment & Hans the youngest of the bunch requiring specialised elbow surgery.
Personal Hobbies: Abbey enjoys cooking, camping, reading, bikram yoga & exploring the country with her partner Jess.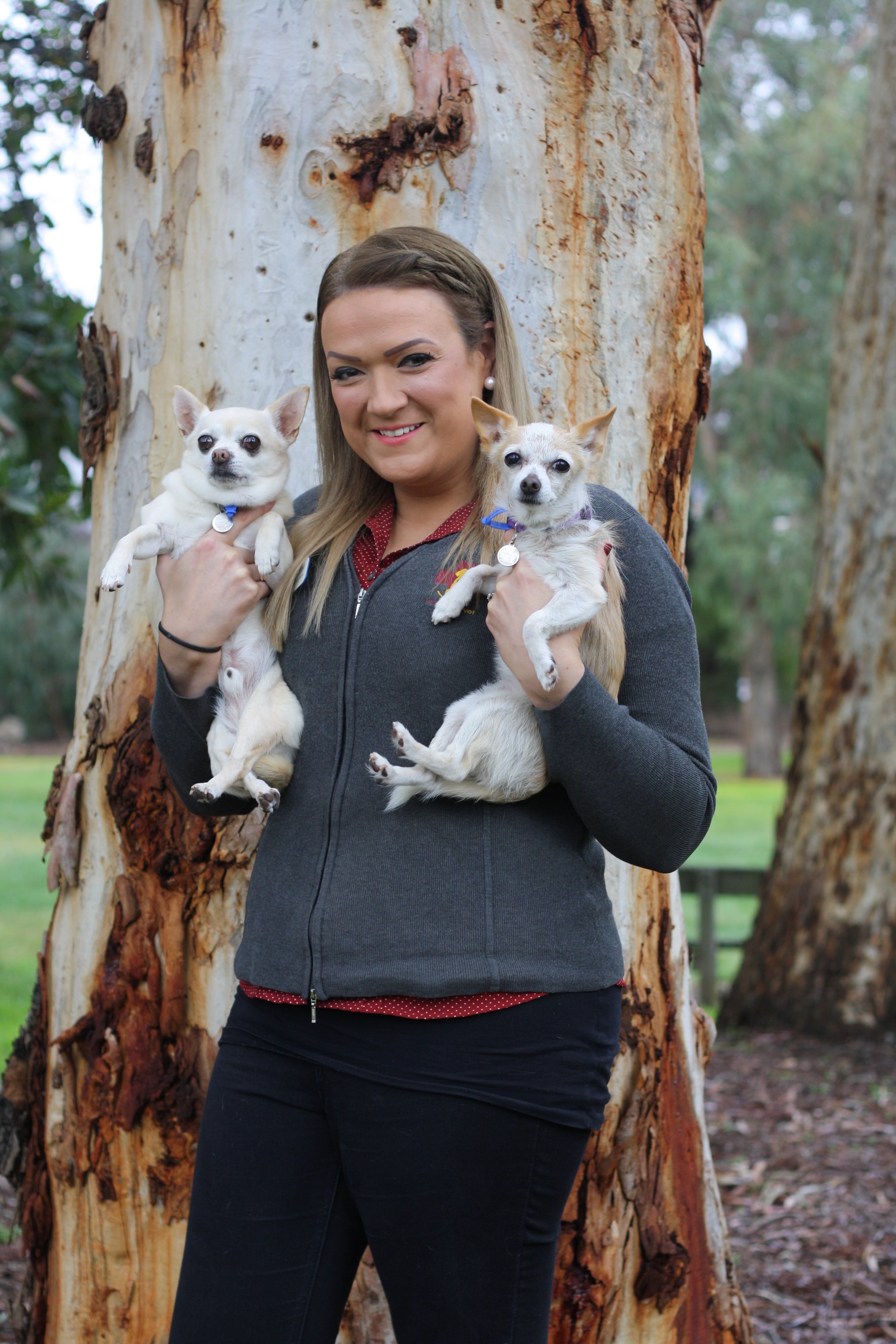 Courtney, Jack & Jamie
HR Manager & Senior Veterinary Nurse (Maternity Leave)
Cert IV VN, Dip. VN (ECC), Dip. Prac.Man.
Bio
Meet Nurse Courtney!
Courtney commenced Nursing with us in 2009. She has 16 years of experience as a Veterinary Nurse. She has extensive experience in General Practice Nursing, Emergency Nursing and also in Nursing Exotic Pets, Pocket Pets and Wildlife. Courtney enjoys putting her wealth of experience to use with our varied and busy caseload at WVH.
Qualifications: Certificate IV in Veterinary Nursing, Diploma of Veterinary Nursing (ECC) & Diploma of Veterinary Practice Management
Special Interests: Courtney has a special interest in Emergency Medicine however she also enjoys the variation of working between Reception, Administration, Medical Nursing, Surgical Nursing and Nurse Consulting.
Pets: Courtney owns two very spoilt little Chihuahua's named Jamie and Jackson. Jamie is now 13 years old and Jackson is 11.
Personal Hobbies: Courtney enjoys spending time with her dedicated husband Josh & her very busy, active son Grayson.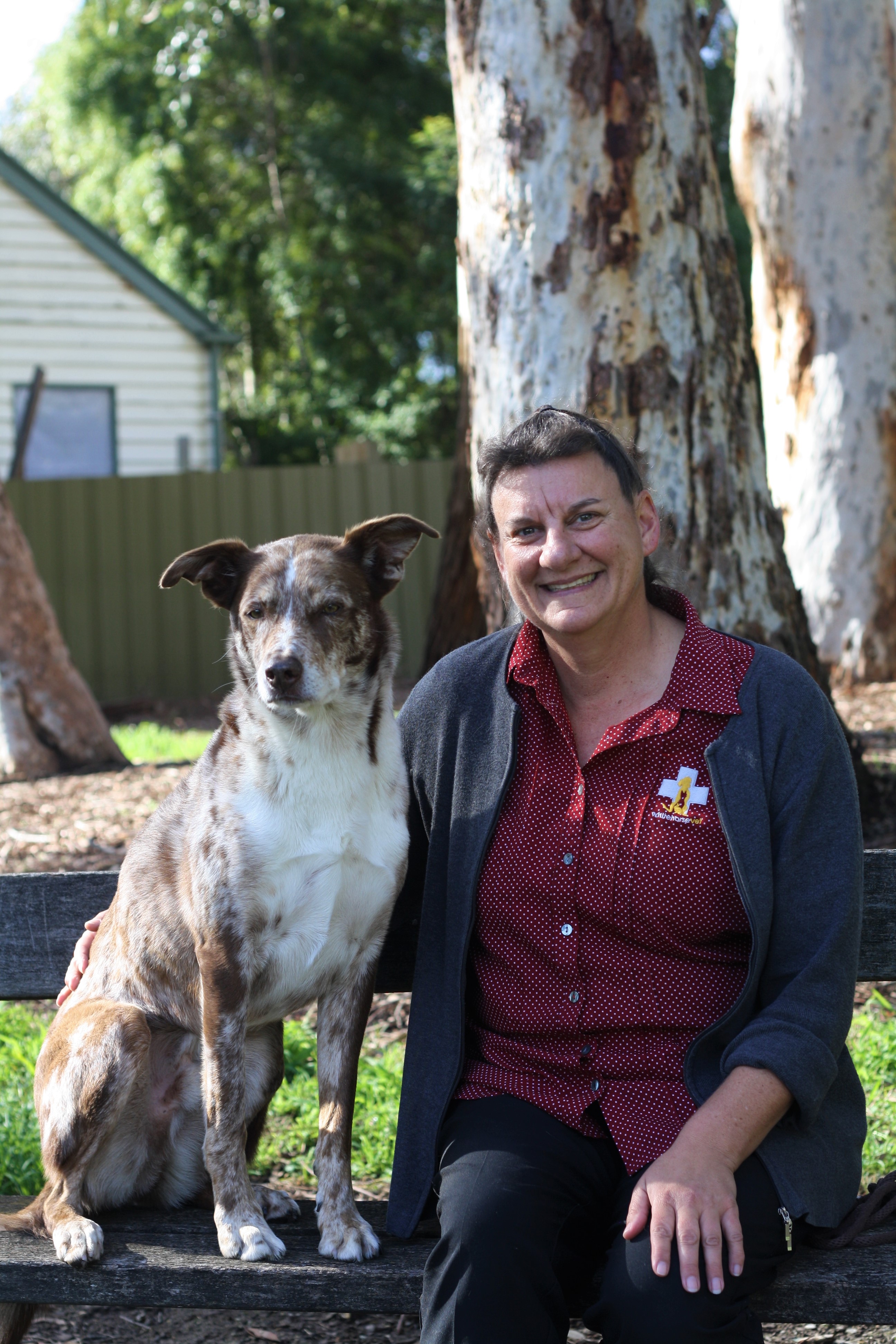 Donna & Link
Senior Veterinary Nurse (Part Time)
Advanced Cert Veterinary Nurse

Bio
Meet Nurse Donna!
Donna joined the team at Whitehorse as a Trainee Veterinary Nurse in 1990. Donna came to Whitehorse with eighteen months of experience from previous vet clinic 'Brandon Park Veterinary Hospital'. At that stage, this was the first Accredited Hospital in Victoria. Donna brought her accreditation knowledge across and contributed largely in the process of Whitehorse becoming an Accredited Veterinary Hospital of Victoria. Donna was also one of the first students to study Advanced Certificate in Veterinary Nursing by correspondence. By 1992 Donna was a fully Qualified Veterinary Nurse and later on achieved a Diploma in Animal Care (ICS). Currently, Donna is our most senior and long-term Veterinary Nurse who is a very familiar face to all our clients and a valuable member of our team.
Qualifications: Advanced Certificate in Veterinary Nursing, Diploma in Animal Care (ICS), Certificate III in Canine Behaviour & Training
Special interest: Donna has an interest in a number of different areas, including; Surgical Nursing, dentistry, Weight Management, behaviour and training.
Pets: Donna's Dogs lead a very active life on her property with the horses. They get plenty of long walks and actively participate in professional agility and tracking trials with plenty of medals, trophies and ribbons to show for it!
Horses: Moose (13 years old) & Ralph (10 years old)
Dogs: Flex – 10 year old Koolie
Rayne – 8 year old Koolie
Link – 5 year old Koolie (Rayne's son)
Quinn – 8 year old Border Collie
Personal Hobbies: Dog Agility & Tracking, Horse riding, netball, snow skiing, walking dogs, outdoor activities and Parelli – Natural Horsemanship Training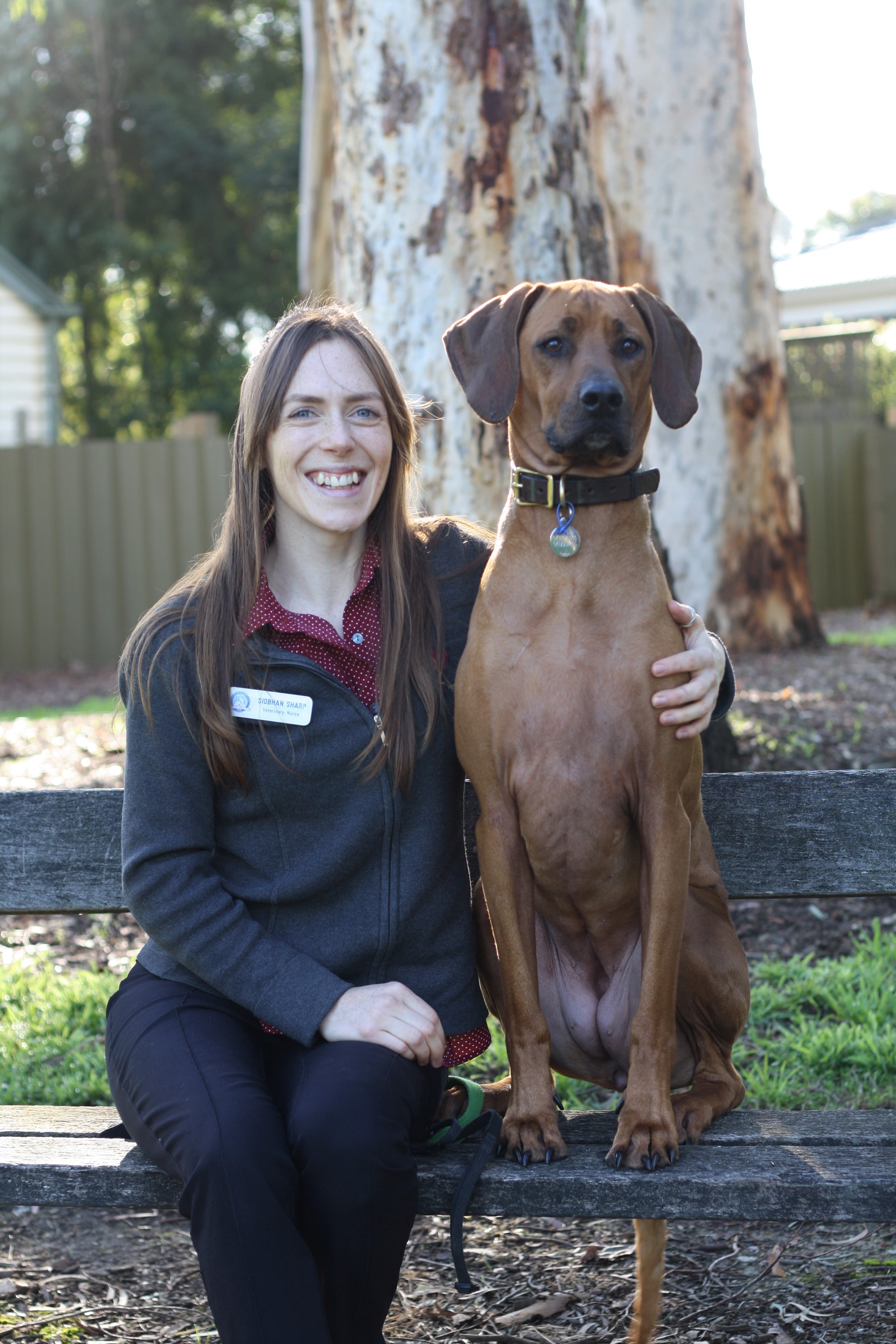 Siobhan & Ode
Lead Surgical Nurse (Full Time)
Bio
Meet Nurse Siobhan!
Siobhan started at Whitehorse in 2015 as a student whilst completing her Certificate IV in Veterinary Nursing. She soon completed her Certificate and is now a fully Qualified Veterinary Nurse. Living in Healesville, Siobhan has always been passionated about animals of all shapes and sizes, especially native Australian Wildlife.
Qualifications: Certificate III in Animal Studies & Certificate IV in Veterinary Nursing
Special Interests: Siobhan enjoys many aspects of nursing which include reception work, basic care advice and surgical nursing. She would like to persue her interest in wildlife and has recently completed an intensive Nursing Dentistry workshop .
Pets: Siobhan has two Rhodesian Ridgeback named Ode & Finn, who are currently enrolled in Obedience School & soon to be transitioning to Agility training.
Personal Hobbies: Siobhan enjoys art and drawing in her spare time, as well as caring for her large veggie garden & cooking the freshly grown produce.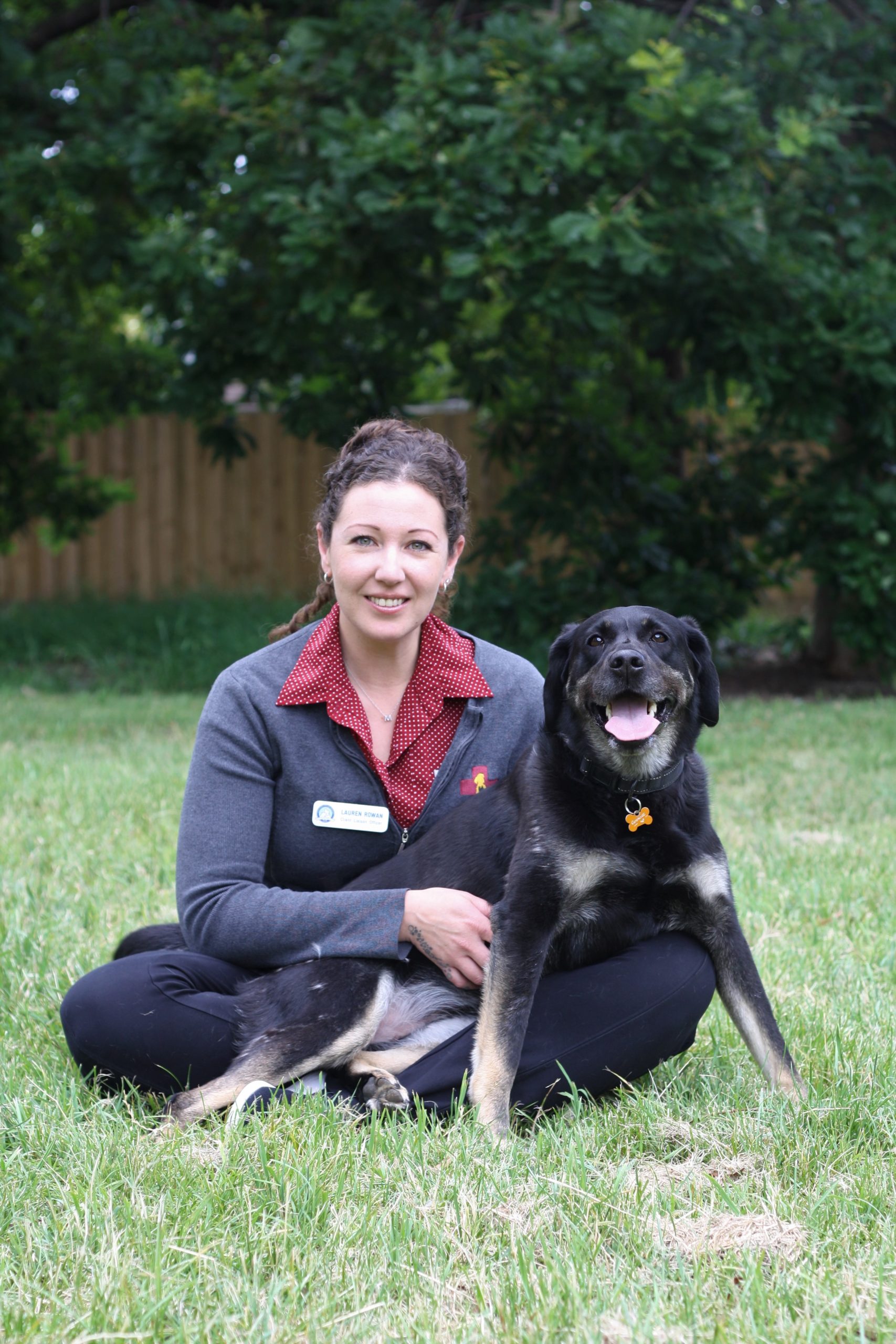 Lauren & Cookie
Client Liaison Officer (Full Time)
Bio
Meet Nurse Lauren!
Lauren joined our team last year with a wealth of customer service experience & already feels at home with all of our lovely clients. Lauren's previous experience includes  reception duties at a multi-modality veterinary centre, managing podiatry clinics & many dedicated years (two decades) working at a cattery & boarding kennels.
You are likely to be greeted by Lauren's bubbly personality as you walk through the doors at our hospital!
Special Interests: All things that involve organisation & administration PLUS giving the clients that well needed hug during those tough times.

Pets: Lauren has two Great Dane's Reggie & Zelda, a Burmese named Ares & a beautiful Torti girl Vegas.
Personal Hobbies: Lauren is an explorer & loves diving into new hobbies, accepting every challenge that comes her way! Lauren is an excellent writer & loves relaxing with wine & cheese in the company of her friends.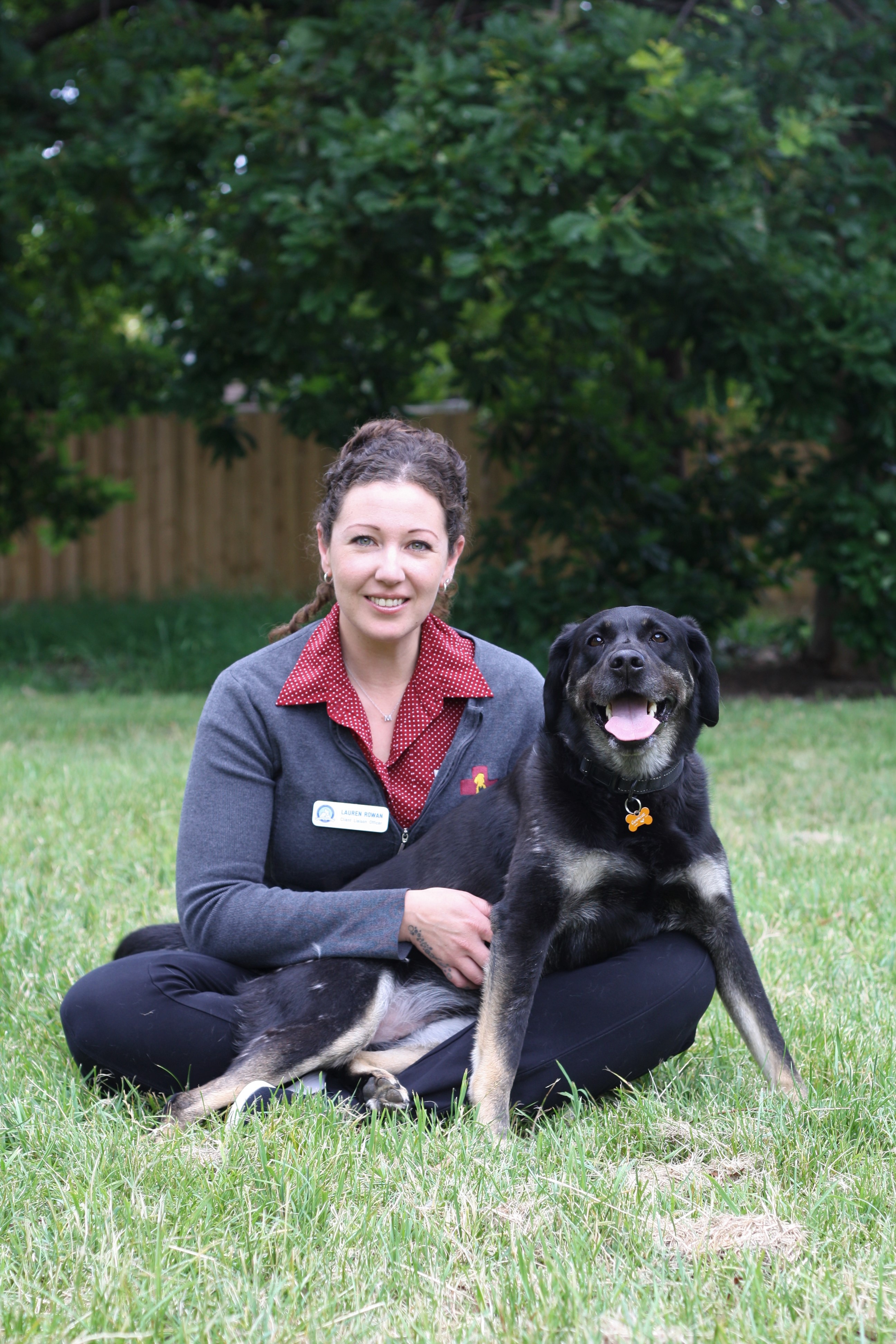 Rachael
Senior Veterinary Nurse (Full Time)
Bio
Meet Nurse Rachael!
Rachael joined us in January 2020 as a Senior Veterinary Nurse after spending 8 years up the road at Blackburn Animal Hospital.
Qualifications: Certificate IV in Veterinary Nursing
Special Interests: Rachael enjoys all aspect of veterinary nursing but shows a keen interest in hospital nursing & helping pets return to their optimal health.
Pets: Rachael has a Soft-coated Wheaten Terrier Ivy & a DSH Winston – these two are totally head over heels for one another.
Personal Hobbies: Rachael enjoys spending her time knee deep in home rennovations, gardening & has been a netballer since the day she was born!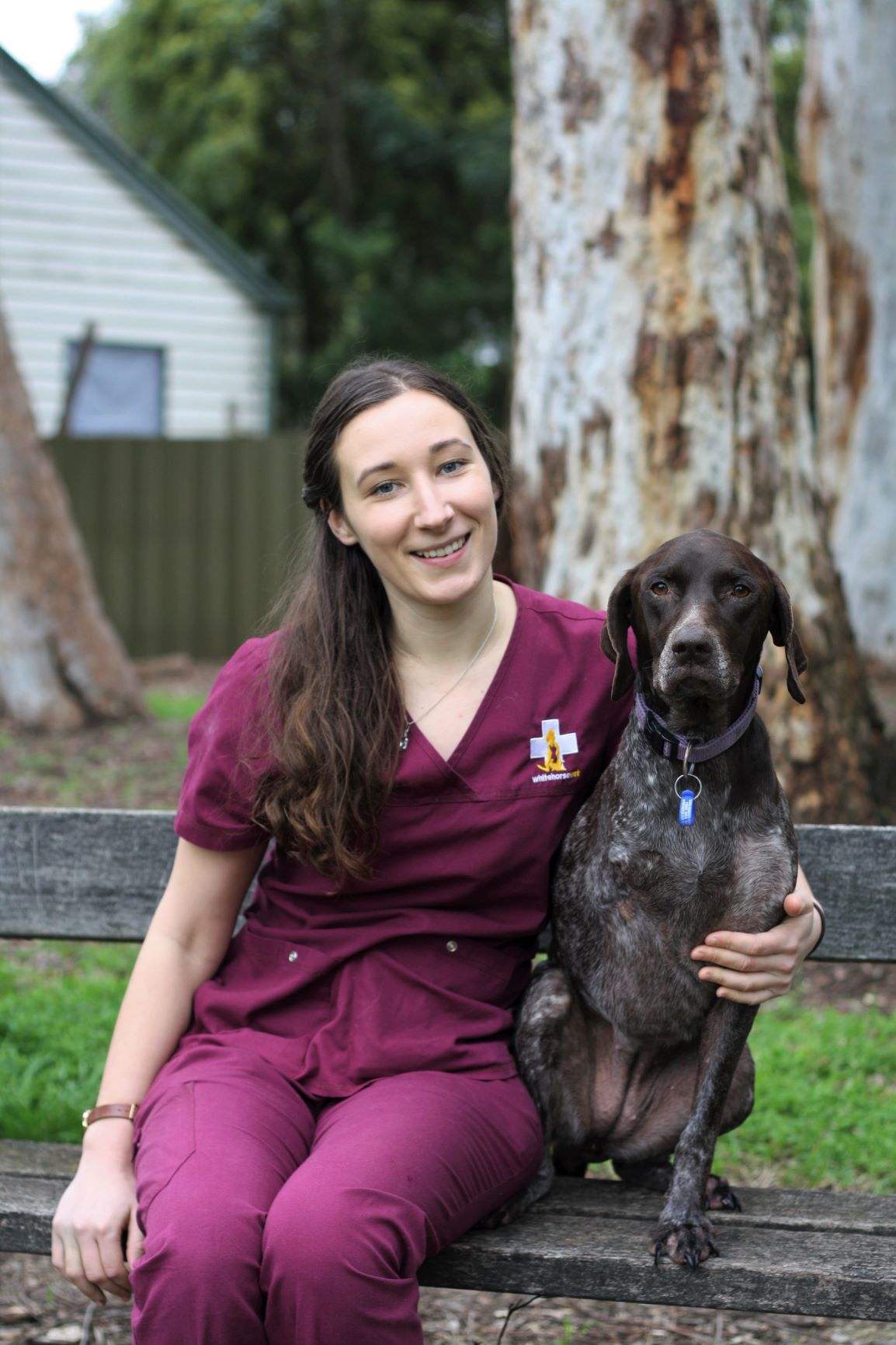 Leah & Luna
Veterinary Nurse (Full Time)
Bio
Meet Nurse Leah!
Leah started with us in 2017 half way through her Certificate IV in Veterinary Nursing. After completing her course with flying colours, she was on the look out for her next challenge.
Leah now casually nurses at the Animal Emergency Centre in Mount Waverley & is gaining loads of experience in emergency medicine.
Qualifications: Certificate IV in Veterinary Nursing
Special Interests: Leah enjoys all thing dentistry & dermatology. Leah is a key player in our Consulting Nurse service & enjoys asiting the veterinarians with their busy consulting schedule.
Pets: Leah has the beautiful three-legged Luna who is a regular skin patient here at the clinic!
Personal Hobbies: Leah is a indoor plant enthusiast, loves spending time outdoors & enjoys being a home maker out in the beautiful Yarra Valley.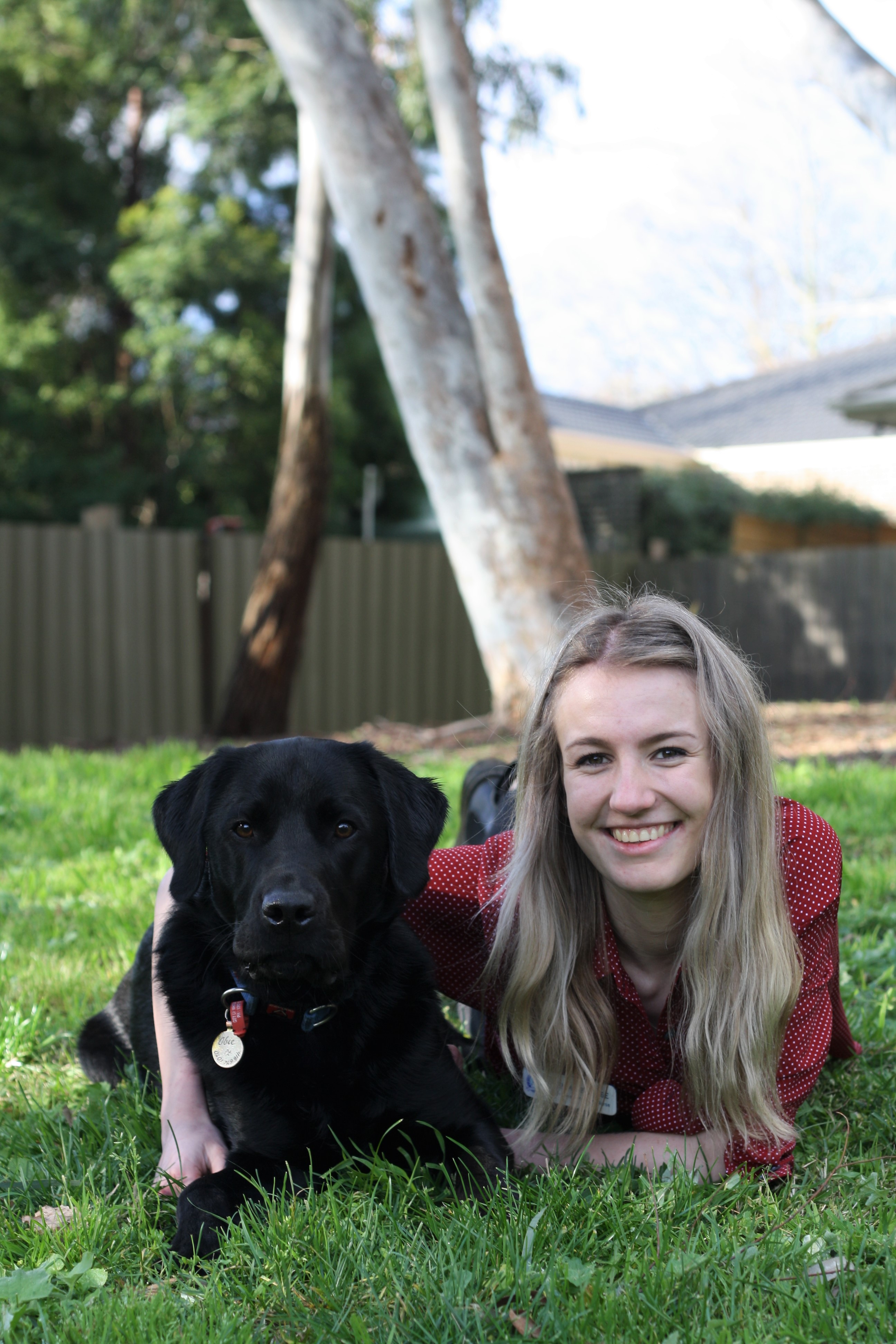 Emma & Obie
Veterinary Nurse (Part Time)
Bio
Meet Nurse Emma!
Emma began her journey here at Whitehorse as a volunteer wanting to gain vital skills to start a career in Veterinary Nursing. The team loved her so much that it was not long after, Emma was offered a trainee position. Emma is now studying a Certificate IV in Veterinary Nursing at Box Hill Institute.
Special Interests: All things receptions & surgical nursing  – especially if it involves a labrador!
Pets: Emma has recently welcomed a Labrador pup Obie into her family home & is loving owning a dog.
Personal Hobbies: Emma enjoys the lifestyle Melbourne has to offer by attending live gigs & often escaping to the beach side with her partner!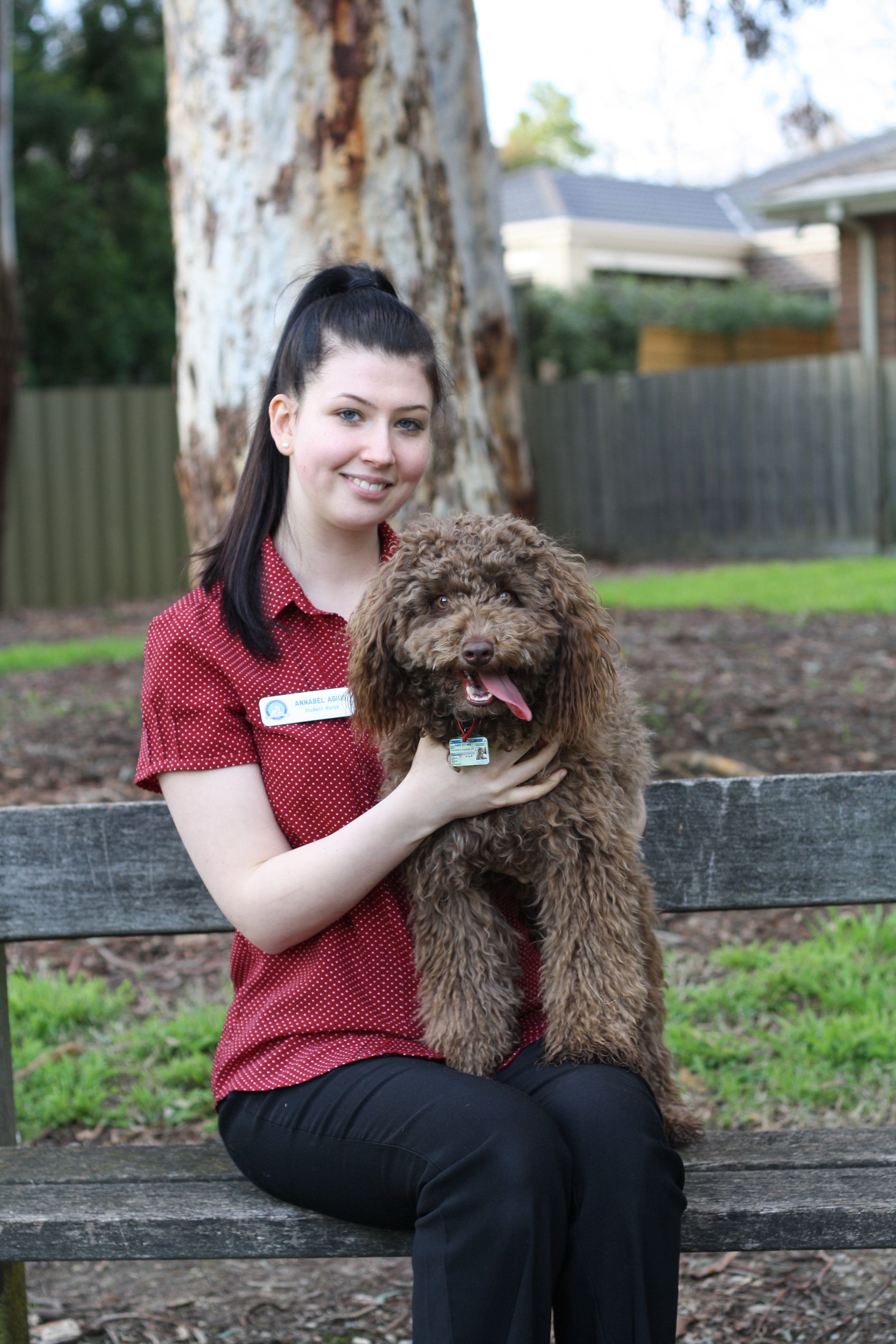 Annabel & Bea
Veterinary Nurse (Part Time)
Bio
Meet Nurse Annabel!
Annabel began her journey here at Whitehorse as a Veterinary Nurse Placement Student in 2018. Annabel made such an impression that we just had to have her join our team on a permanent basis, she is now half-way through her Certificate IV in Veterinary Nursing at Box Hill Institute.
Special Interests: All aspects of surgical nursing, radiography & most of all anything reproductive!
Pets: Annabel has an extremely enthusiastic & adorable chocolate labradoodle called Bea PLUS 3 turtles, a Darwin carpet python & 26 year old Blue tongue lizard called Harry.
Personal Hobbies: Annabel enjoys spending her time drawing, socialising with her close group of friends & attending 80's based music concerts – including Queen & Elton John.
Vanessa
Veterinary Nurse (Part Time)
Cert III Animal Studies Specialising in Veterinary Nursing
Bio
Meet Nurse Vanessa!
Vanessa joing our team in December 2019 as a Veterinary Nurse. With both children now attending school, Vanessa was able to pursuit her passion in Veterinary Nursing.
Qualifications: Certificate III in Veterinary Nursing
Special Interests: Vanessa has really enjoyed getting to know all our wonderful clients – especially when they bring in their new puppy or kitten for the first time!
Pets: Vanessa has a gorgeous Cattle Dog named Roonie – who only has eyes for Vanessa.
Personal Hobbies: Vanessa is a keen oil painter & currently experimenting with colour. Vanessa also enjoys getting out on her road bike, taking in all that fresh air!
Just off Linden Street you will find our car park designated to our clients. Your pet will be safer with easier and spacious access to the clinic.
Our welcoming reception area provides both pets and their owners access to our friendly and experienced staff. Also used as a spacious waiting room for our Veterinary and Nurse consultations.
Our highly equipped surgical suite is an accredited & sterile environment for all kinds of surgeries ranging from desexing procedures, mass removals, orthopedic surgery, cancer surgery and much more.
Our hospital is equipped with advanced Digital X-ray equipment which helps to provide high quality images of bone and tissue.
Caring for Animals
Whitehorse Veterinary Hospital is dedicated to providing the best possible health outcomes for your pet. We will provide advice and care that aligns with best practice.
Caring for People
We recognise the positive impact pets have on the lives of their owners and endeavour to improve the relationship between owners and their pets.
Caring for the Environment
People and pets have a large impact on the local and global environment. We seek to educate owners on environmentally responsible pet ownership.

Mon-Fri: 8:00am - 7:00pm
Sat: 8:00am - 4:00pm
Sun: 9:00am - 1:00pm