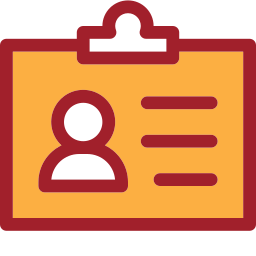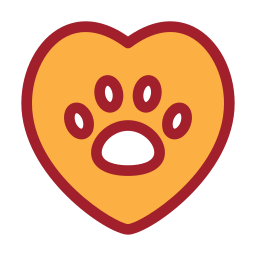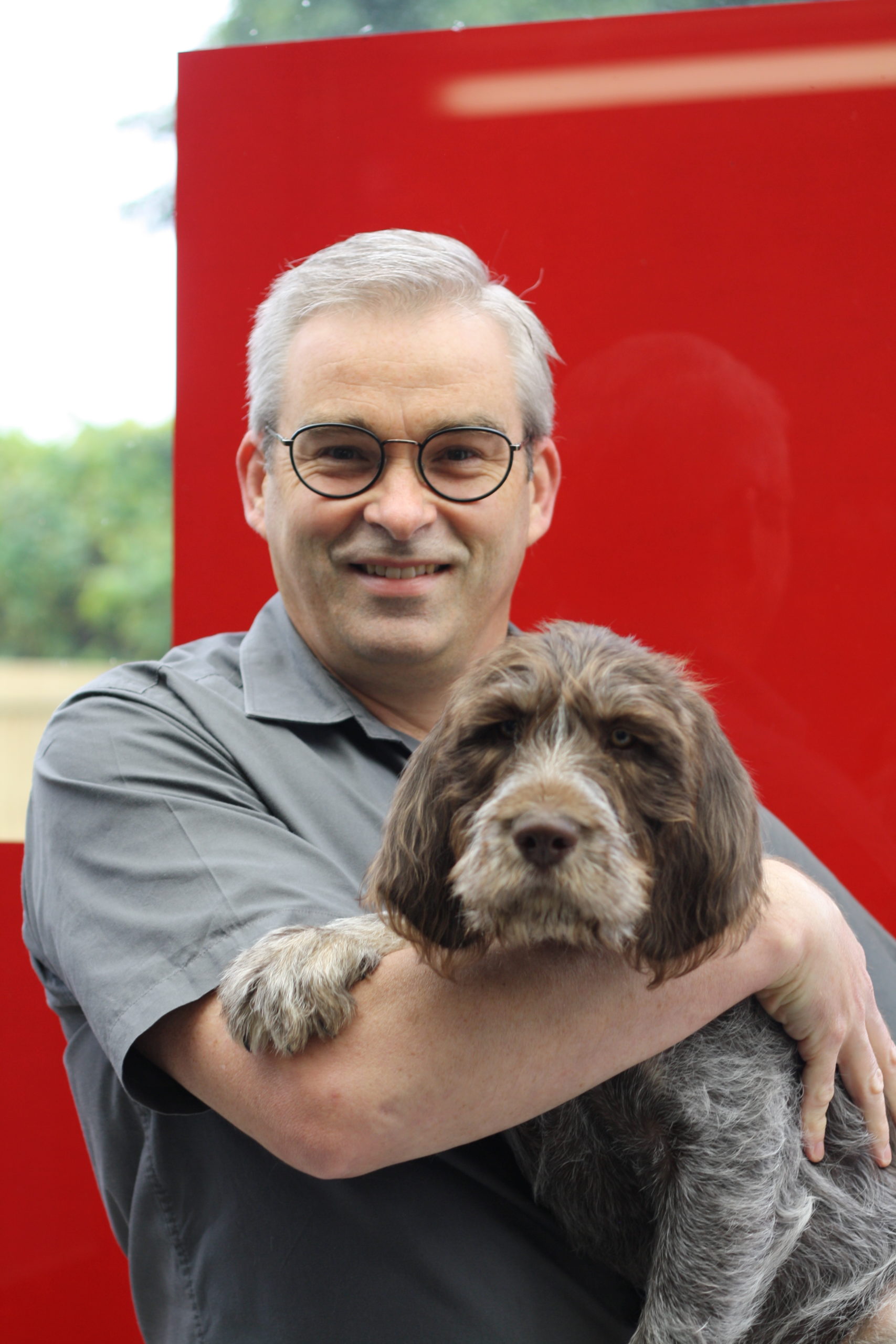 Dr. Shaun Wynne & Peggy Goo
Hospital Director & Senior Veterinary Surgeon
BVSc (Hons) 1991 & MACVS (Surgery) 2005
Bio
Shaun began his journey at Whitehorse in 1983 as a high school student completing work experience. Shaun returned as a university student in 1991 and worked for 2 weeks as a veterinary Student. In 1998 Shaun became a full-time Senior Veterinarian working beside Dr Peter Cullen and then in 2006 Shaun bought the practice off Peter! Shaun has over 30 years of experience in the Veterinary Industry and has achieved great things during his time at Whitehorse.
Special interest: Member of Unusual and Exotic Pets Group of the AVA. Shaun has over 20 years experience with all pets, including Rabbits, Rats, Guinea Pigs, Birds and other Pocket Pets.  Since passing examinations to be admitted as a member of the Australian College of Veterinary Surgeons, Shaun's main interest has been advanced surgery. This includes Advanced Knee surgery (stifle), TTO – Triple Tibial Osteotomy surgery, TPLO – Tibial Plateau Levelling Operations, de-Angelis suture and a range of other orthopedic surgery. 
Most memorable veterinary moment:  A pug presented in respiratory distress on a particularly hot day. He sounded like a clogged up, overheated steam train. His throat was occluded by an excess of soft tissue, his nostrils were closed over and the little pockets next to his vocal chords (in his larynx) had everted. All this is called BOS – Brachycephalic Obstructive Syndrome, and it had put little "Buster" into life-threatening Heat Stroke. We gave him a "nose job" (rhinoplasty), a soft palate resection and we cut out the everted laryngeal saccules – all referred to as BOS surgery. After we cleared his airways, his energy levels increased better than they had been for years and he could breathe easy. For some years prior to surgery his loud snoring had filled the bedroom, and because Buster's owner was used to the background noise, she had some adjusting to do, waking several times a night to check that he was OK. 
Pets: Shaun has quite the mnagerie at home consisiting of 3 dogs, Teddy the labradoodle, a teacup maltese x chihuahua called Alfie & Peggy Goo a German Wirehair Pointer (from Nurse Abbey's litter). Shaun also has a cat named Ace (who was brought in as a stray kitten) & a budgie named Borris!
Personal Hobbies: Playing 'Mr. Mom' when Kristen works late, watching football and going on camping trips.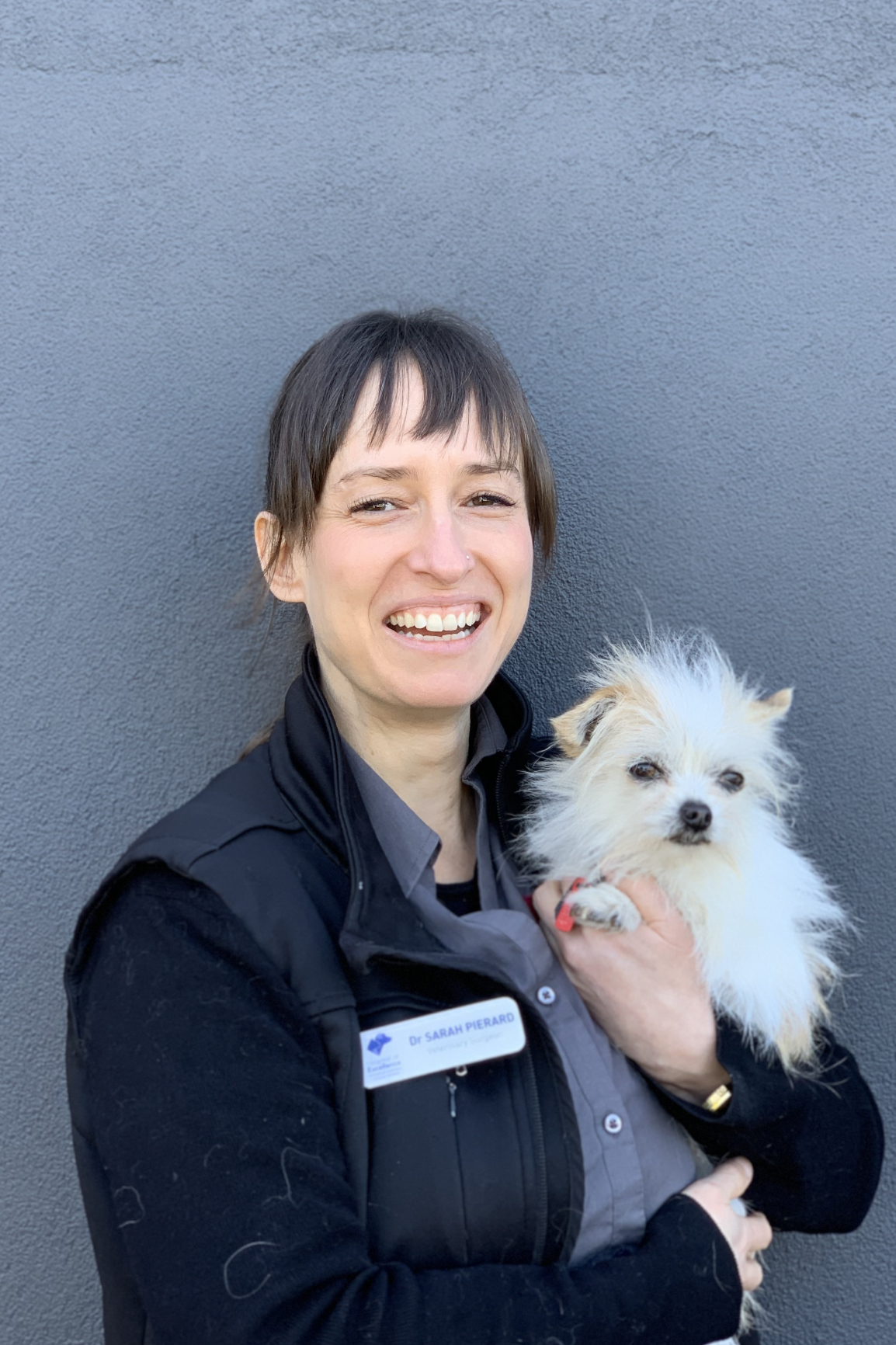 Dr. Sarah Pierard & Alfie
Clinical Leader
BVSc 2004 (Hons) PgCertVS MVS MANZCVS (Small Animal Medicine)
Bio
Sarah joined the Whitehorse team in 2021 as a senior veterinarian, in 2022 she officially became a part of the management team as the Clinical Leader.
Sarah has an extensive background in the animal care industry.
Sarah has always been passionate about animals, and first started volunteering in veterinary clinics during high school in 1994. She completed her undergraduate degree with first class Honors in 2004, and then her Master's degree in 2014.
She completed and passed her Membership Examinations in 2021 in Small Animal Medicine, while studying in and out of lockdowns!
Sarah has worked in general practice in Australia and in the UK, and then worked in a diabetes referral clinic for 7 years. She has also been a guest lecturer for the final year veterinary nursing students completing their Bachelor of Veterinary Nursing degree at Melbourne Polytechnic since 2018. Sarah has more than 25 years in the industry, and more than 17 years as a veterinarian.
Qualifications:
Bachelor of Veterinary Science (University of Queensland),
Postgraduate Certificate of Veterinary Science (Murdoch University),
Masters of Veterinary Science (Murdoch University),
Membership of the Australian and New Zealand College of Veterinary Scientists (Small Animal Medicine)
Special Interests: Because of her experience working in a diabetes clinic, Sarah has a particular interest in diabetes mellitus in cats and dogs, as well as other endocrine/hormonal conditions (e.g. Cushing 's Syndrome, Addison's Disease). She also has a keen interest in internal medicine and nutrition. She loves all animals, but is particularly tragic about older cats.
Pets: Sarah has a Burmese cat, Withnail, who keeps her very busy at home!
Personal Hobbies: In her spare time, Sarah enjoys cooking, gardening, playing the piano, studying languages, and travelling.
Dr. Emily Joss
Veterinary Associate
Bio
Emily joined the Whitehorse family in February 2021, and was quick to settle into the role as our senior surgical veterinarian.
Emily's first job in the animal care industry was as a nurse, which was her part-time job while she was studying veterinary science. After graduating in 2016, she entered a busy general practice where she fell in love with all aspects of veterinary care. Surgery in particular became a passion, and Emily went on to complete a 12-month Surgical Internship in 2020.
Qualifications: Doctor of Veterinary Medicine 2016, Bachelor of Science 2012
Special Interests: Emily thrives in all aspects of being a veterinarian, from complex medical cases to welcoming new puppies and kittens into their families. However, she has a particular passion for all surgical procedures including soft tissue, abdominal, orthopaedic, and dental surgery.
Pets: Alfie the Dachshund who loves walks on the beach and couch cuddles.
Monty and Tobi the rainbow lorikeets who are both very messy and naughty, but are loved in spite of that.
Birdie the cockatiel, who is full of tricks and lives to sing and chatter.
And Coco the elderly tabby cat definitely runs the whole show.
Personal hobbies: Emily enjoys quiet hobbies including painting, gardening (with variable success), fishing, and reading.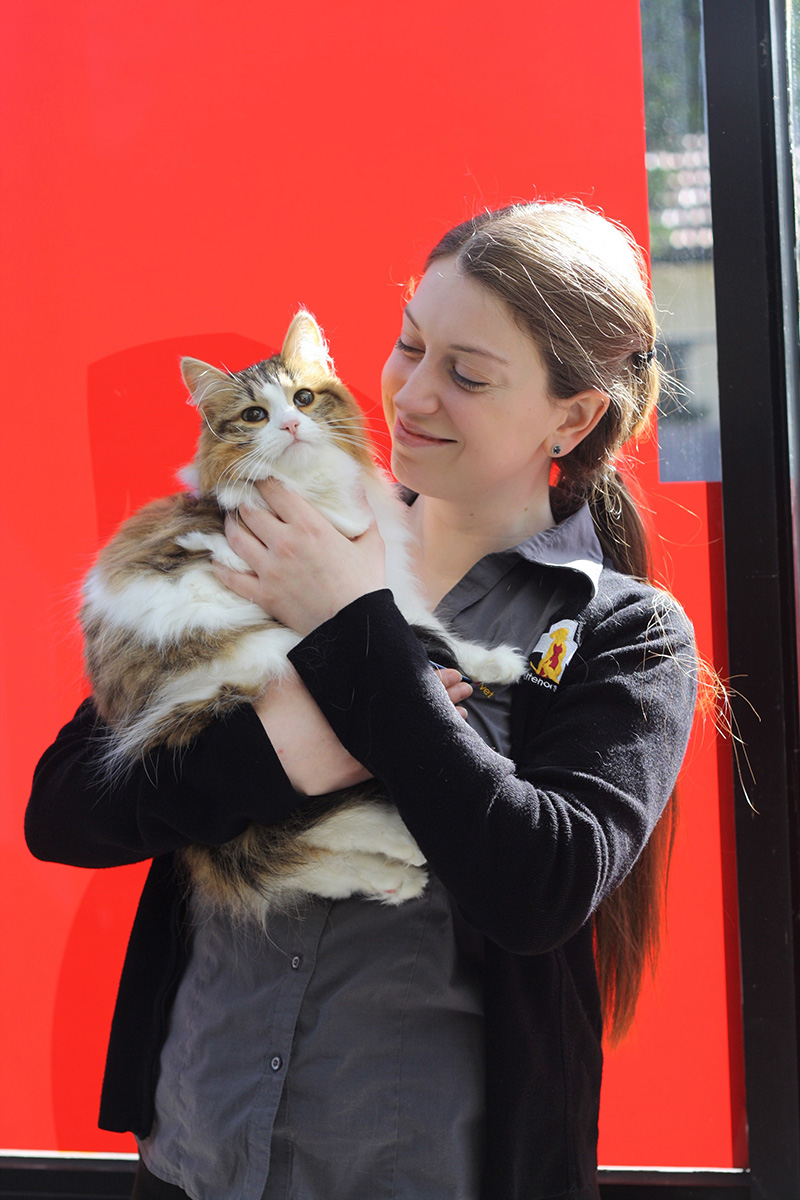 Dr. Hazel Patterson & Juniper
Veterinary Associate
BSc, DVM 2015

Bio
Hazel joined the Whitehorse team in 2016 as a New Graduate Veterinarian. She completed a rotational placement with the hospital during her final year of Veterinary Medicine, we all loved her so much that we simply had to have her on the team! She is now an integral team member and experienced Veterinarian having worked with us for many years now.
Hazel is very popular with our clients, especially those with cats! With her empathetic nature & gentle hands, she seems to have the magic touch & easily wins over the hearts of all of our feline patients.
Qualifications: Doctor of Veterinary Medicine, Bachelor of Science
Special Interests: Hazel has a special interest in Feline Medicine, however she enjoys seeing all Companion animals. Hazel thoroughly enjoys the daily variation of involved tasks in working as a Veterinarian. Working between Consulting, performing surgeries, working up cases with diagnostics and everything in between.
Pets: Hazel has a beautiful Siberian cat named Juniper, who is super smoochy, loving & extremely photogenic.
Personal Hobbies: Hazel enjoys cooking and dining out, following AFL (Hawks supporter), playing piano and spending time with her friends and family.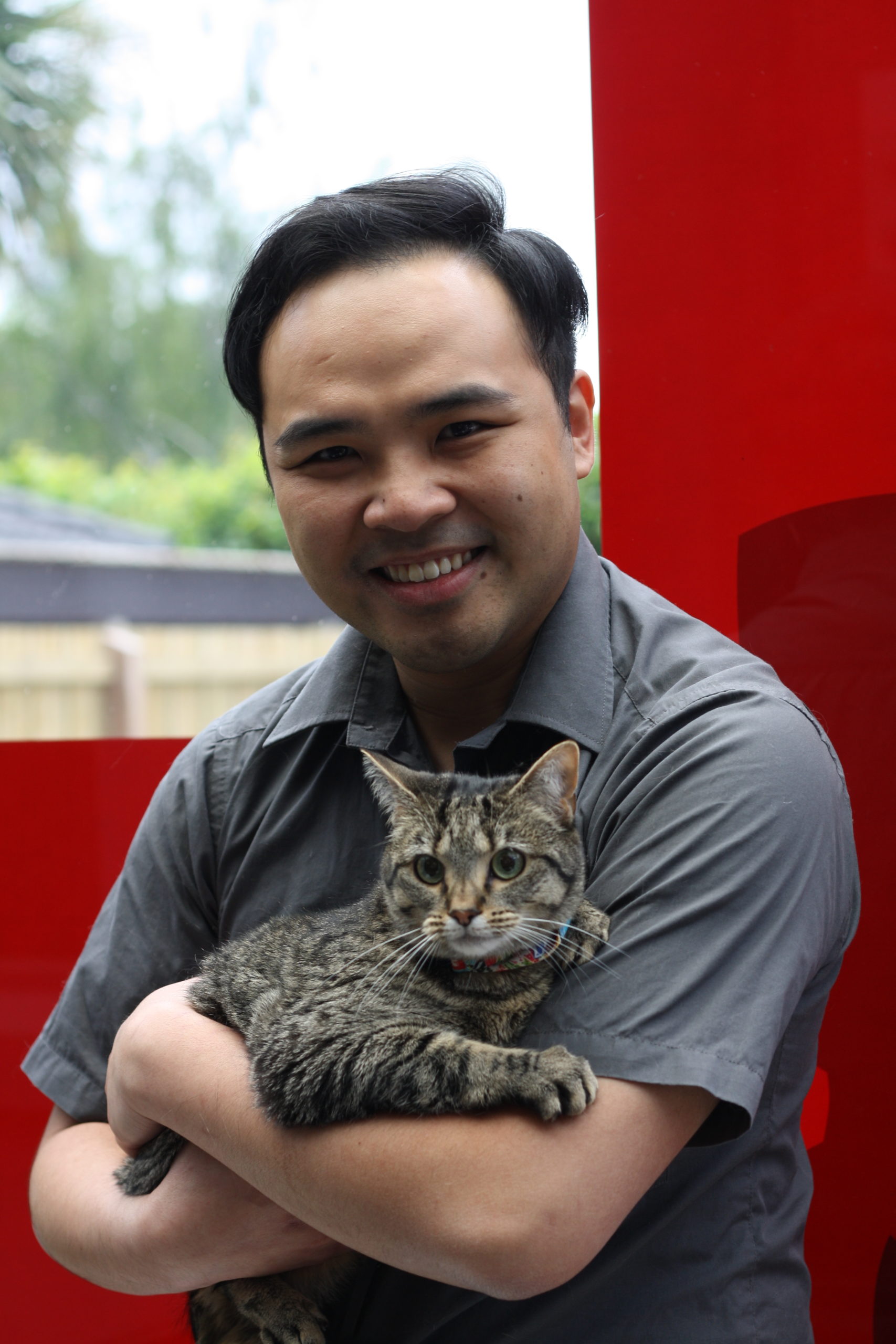 Dr. Johnny Kwong & Echo
Veterinary Associate
Bio
Born and raised in Hong Kong, Johnny moved to Melbourne when he was 17 to pursue his childhood dream as a Veterinarian and graduated with his Veterinary degree in 2017. Since Johnny has been working as a Small Animal Veterinarian in Melbourne and became apart of the Whitehorse team in 2020. 
Johnny is bilingual in English and Cantonese, he is also able to speak Mandarin.
Qualifications: Doctor of Veterinary Medicine (University of Melbourne)
Special Interests: As Johnny continues on his Veterinary journey, he has become more and more interested in Small Animal Medicine and enjoys solving medical puzzles. Johnny is crazy for all things cats! With a keen interest in feline medicine. 

Pets: Johnny has three rescue cats bossing around the house – Kyoko, Oreo and Echo (in picture). Although it sounds like he's a crazy cat man, he loves dogs equally but his three bosses said no 🙁

Personal Hobbies: Johnny enjoys photography, traveling and also loves to spend his downtime gaming 🙂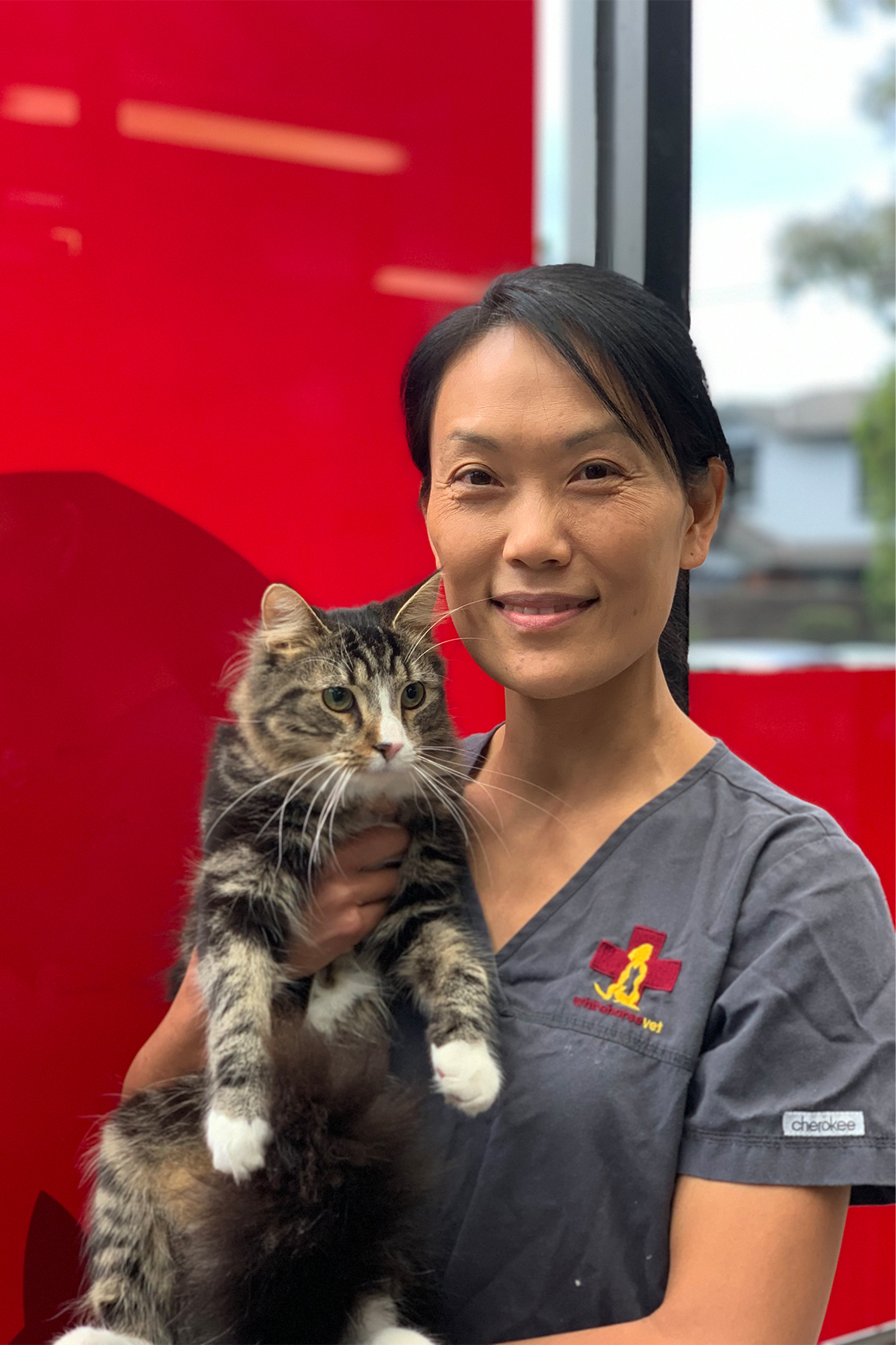 Dr. Julian Sze & Neville
Senior Veterinarian
BVSc 2000, BVAnSc MANZCVS (Small Animal Medicine)
Bio
Julian started at Whitehorse in August 2021 as a locum veterinarian. Julian made a huge impact on our clients and the entire team. After just a couple of shifts, we knew we needed her on the team permanently. In January 2022 Julian officially joined the Whitehorse team as a senior veterinarian.
Julian was born in Honk Kong and moved to Australia when she was three.  She enjoyed her childhood living the south eastern suburban dream. She graduated from The University of Melbourne in 2000 and then went on to complete her Membership Examinations in 2007 in Small Animal Medicine.
Qualifications: BVSc, BAnSc, MANZCVS (Small Animal Medicine), Graduate Certificate in Small Animal
Abdominal Ultrasound.
Special Interests: Julian has an extensive background in the animal care industry and has been fortunate enough to live and work as a vet in various places around the world, most notably in Hong Kong and the United Kingdom.  Although she loves performing an exciting caesarian, her professional passions have always been in Internal Medicine pathways, many of which has been explored over the past two decades.
Pets: Julian shares her home and heart with her foster failure Neville, who is a 10month old Domestic Medium Hair.
Personal Hobbies: When she is not at home 'adulting' with her husband over the two- and four- legged family, Julian divides her time running, hiking, boarding through powder and sampling Melbourne's culinary delights.
Dr Peter Bradbrook
Veterinary Associate
BVSc BHSc(dent)/MDent) MANZCVS (Small Animal Dentistry & Oral Surgery)
Bio
Dr Peter is a dual qualified veterinarian and human dentist. He has a passion for veterinary dentistry and enjoys collaborating his extensive knowledge relating to all things teeth into the veterinary profession. Dr Peter graduated from Melbourne University as a Vet in 2010, working extensively over Australia and the UK.
In 2019 he completed his human dentistry training after gaining a Bachelor of health Science (Dentistry)/ Masters of Dentistry from La Trobe University. Since then has been working in both veterinary and human dental clinics. Recently, he has had the privilege of working on primates at Melbourne Zoo.
In 2022, Dr Peter completed his Membership examinations in Veterinary Dentistry and Oral Surgery.
Peter has a special interest in Veterinary endodontics (including root canal therapy and vital pulp treatment), restorative work (eg, fractured/ defected teeth), dental surgery (extractions, periodontal disease management and gum overgrowth correction) and orthodontics (correcting malaligned canines)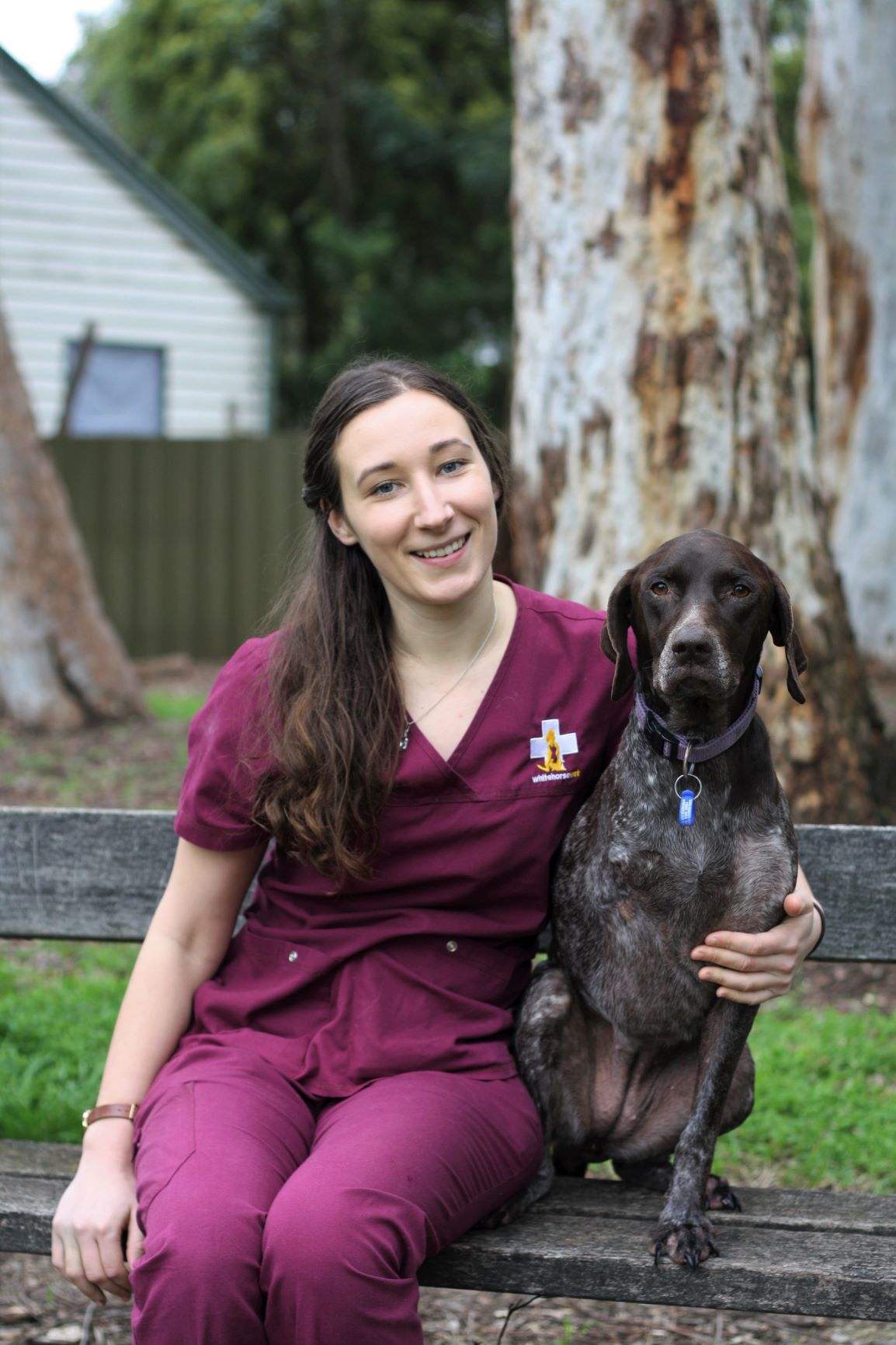 Leah & Luna
Practice Manager
Bio
Meet Nurse Leah!
Leah started with us in 2017 half way through her Certificate IV in Veterinary Nursing. After completing her course with flying colours, she was on the look out for her next challenge.
Leah has taken on a leadership role within Whitehorse Vet & assists with setting the standard, even expanding the nursing roles we have here at the clinic – in particularly the Veterinary Technician role.
Qualifications: Certificate IV in Veterinary Nursing
Special Interests: Leah enjoys all thing dentistry & dermatology. Any chance Leah gets, she is looking at slides under the microscope! Leah is a key player in our Veterinary Technician service, being the vets "right hand man" with their busy consulting schedule.
Pets: Leah has the beautiful three-legged Luna who is a regular skin patient here at the clinic!
Leah has recently moved out to a small hobby farm where her fur babies are constantly expanding
Two alpacas Nigel and Raymond
The lovely little Bindi, a 9 week old Koolie
And 6 free ranged hens
Personal Hobbies: Leah is a indoor plant & timber enthusiast, loves spending time outdoors away camping & 4 wheel driving.
Leah loves spending time at home looking after the farm,  her animals and  being a home maker out in the beautiful Yarra Valley.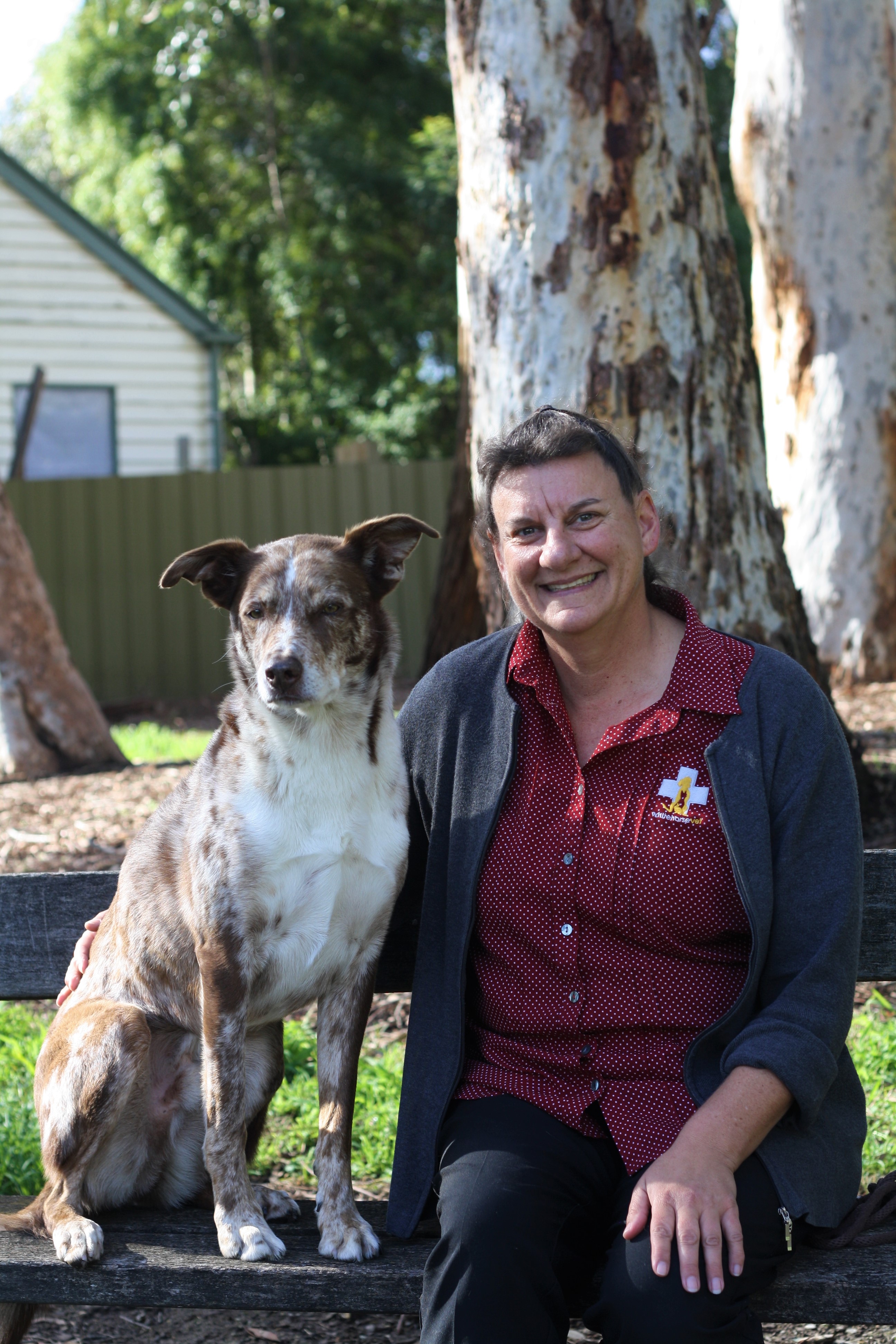 Donna & Link
Senior Veterinary Nurse
Advanced Cert Veterinary Nurse

Bio
Meet Nurse Donna!
Donna joined the team at Whitehorse as a Trainee Veterinary Nurse in 1990. Donna came to Whitehorse with eighteen months of experience from previous vet clinic 'Brandon Park Veterinary Hospital'. At that stage, this was the first Accredited Hospital in Victoria. Donna brought her accreditation knowledge across and contributed largely in the process of Whitehorse becoming an Accredited Veterinary Hospital of Victoria.
Donna is our most senior and long-term Veterinary Nurse who is a very familiar face to all our clients and a valuable member of our team.
Qualifications: Advanced Certificate in Veterinary Nursing, Diploma in Animal Care (ICS), Certificate III in Canine Behaviour & Training
Special interest: Donna has an interest in a number of different areas, including; Surgical Nursing, dentistry, Weight Management, behaviour and training.
Pets: Donna's Dogs lead a very active life on her property with the horses. They get plenty of long walks and actively participate in professional agility and tracking trials with plenty of medals, trophies and ribbons to show for it!
Horses: Moose (13 years old) & Ralph (10 years old)
Dogs: Flex – 10 year old Koolie
Rayne – 8 year old Koolie
Link – 5 year old Koolie (Rayne's son)
Quinn – 8 year old Border Collie
Personal Hobbies: Dog Agility & Tracking, Horse riding, netball, snow skiing, walking dogs, outdoor activities and Parelli – Natural Horsemanship Training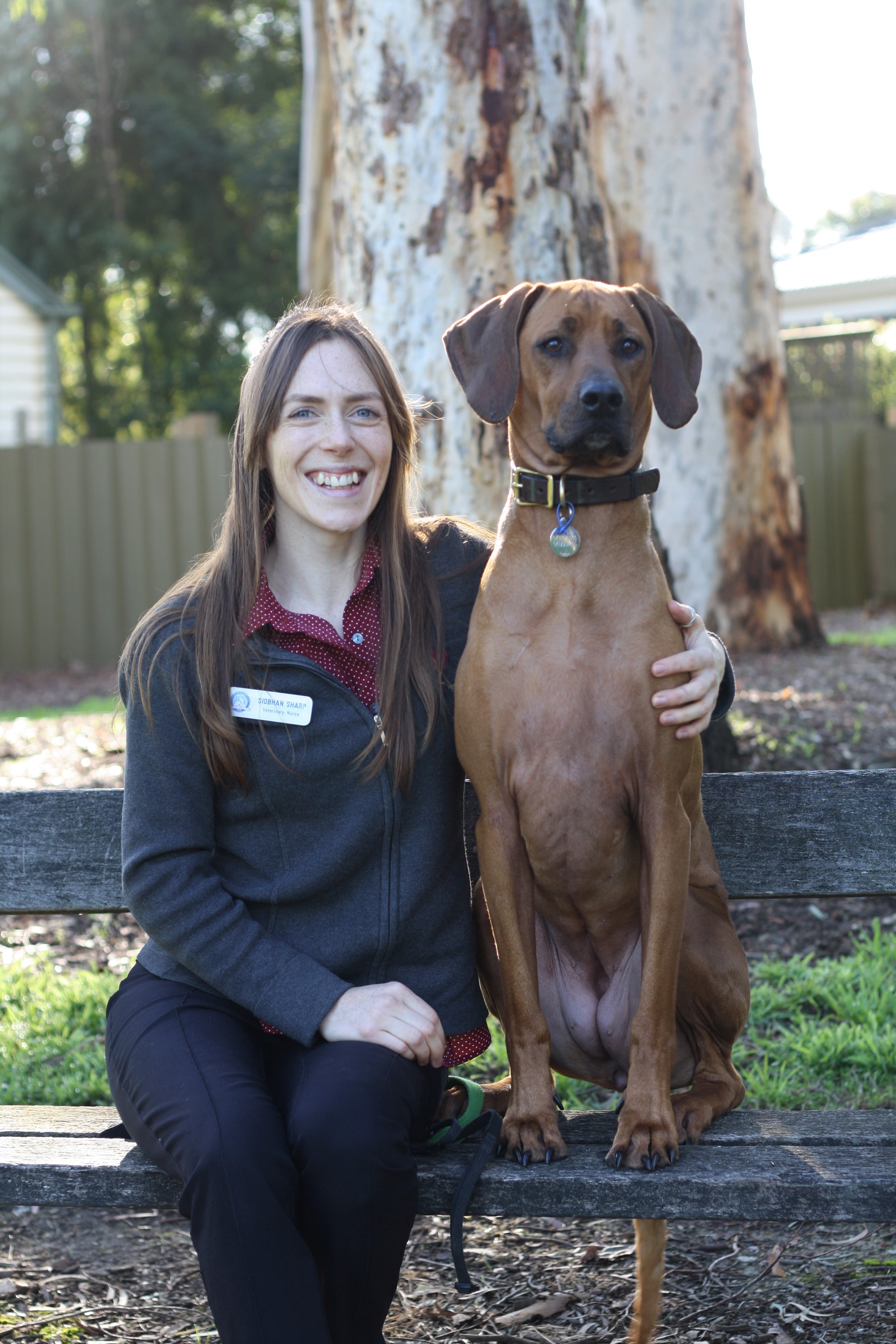 Siobhan & Ode
Senior Veterinary Nurse
Cert IV Veterinary Nurse

Bio
Meet Nurse Siobhan!
Siobhan started at Whitehorse in 2015 as a student whilst completing her Certificate IV in Veterinary Nursing. She soon completed her Certificate and is now a fully Qualified Veterinary Nurse. Living in Healesville, Siobhan has always been passionated about animals of all shapes and sizes, especially native Australian Wildlife.
Qualifications: Certificate III in Animal Studies & Certificate IV in Veterinary Nursing
Special Interests: Siobhan enjoys many aspects of nursing which include reception work, basic care advice and surgical nursing. She would like to persue her interest in wildlife and has recently completed an intensive Nursing Dentistry workshop .
Pets: Siobhan has two Rhodesian Ridgeback named Ode & Finn, a very special kitten Fig, 3 goats & many chickens!
Personal Hobbies: Siobhan enjoys art and drawing in her spare time, as well as caring for her large veggie garden & cooking the freshly grown produce.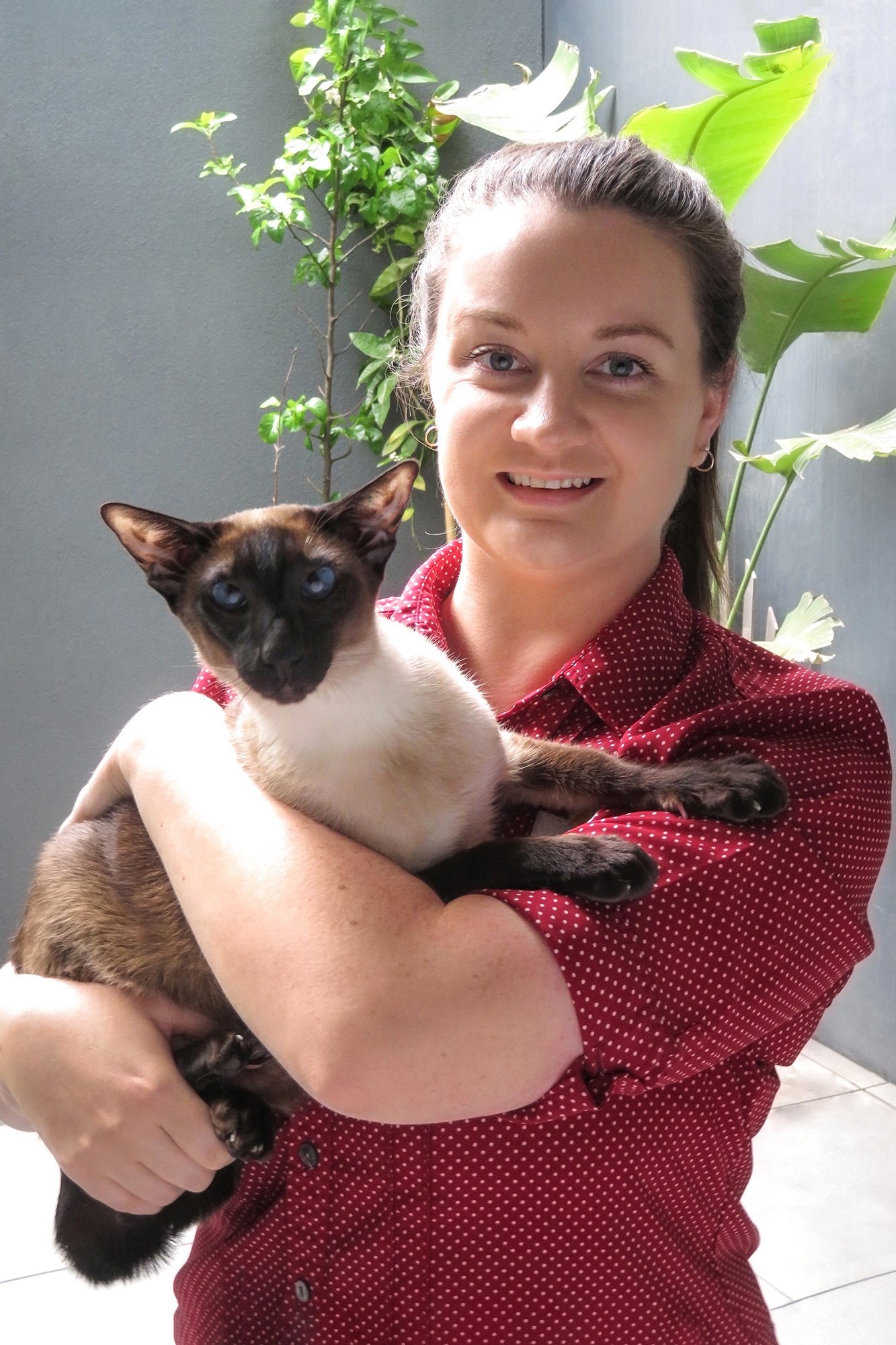 Hannah & Greg Boy
Senior Veterinary Nurse
Cert IV  VN. Dipl. VN (Gen)

Bio
Meet Nurse Hannah!
Hannah joined the Whitehorse family as a senior veterinary nurse. Hannah's nursing career started in 2005, spending majority of her time as practice manager in general practice. She also has experience in specialist veterinary environments including ophthalmology, surgery and internal medicine and oncology.
Hannah spent time as a state division committee member and secretary of the Veterinary Nurses Council of Australia and is passionate about the education of nurses.
Qualifications: Certificate IV Veterinary Nursing, Diploma of Veterinary Nursing (General)
Special Interests: Hannah loves all areas of veterinary nursing but particularly bonding and forming long term relationships with clients and their pets. She enjoys anaesthesia and challenging medical cases. Hannah has a passion for the training and mentoring of junior nurses.
Pets: Hannah has a cheeky and lively little Welsh Terrier named Colin. You will often meet him out for his walks with Hannah in the neighbourhood.
She also has a stunning Siamese cat who is very close to Hannah's heart named Greg Boy and a very energetic (and vocal!) Oriental Shorthair cat called Judy Clementine.

Personal Hobbies: Hannah's favourite thing to do is reading, especially with her precious cats on her lap. She loves spending time with her big family and walking her dog Colin around her beautiful home suburb of Blackburn, often running in to clients.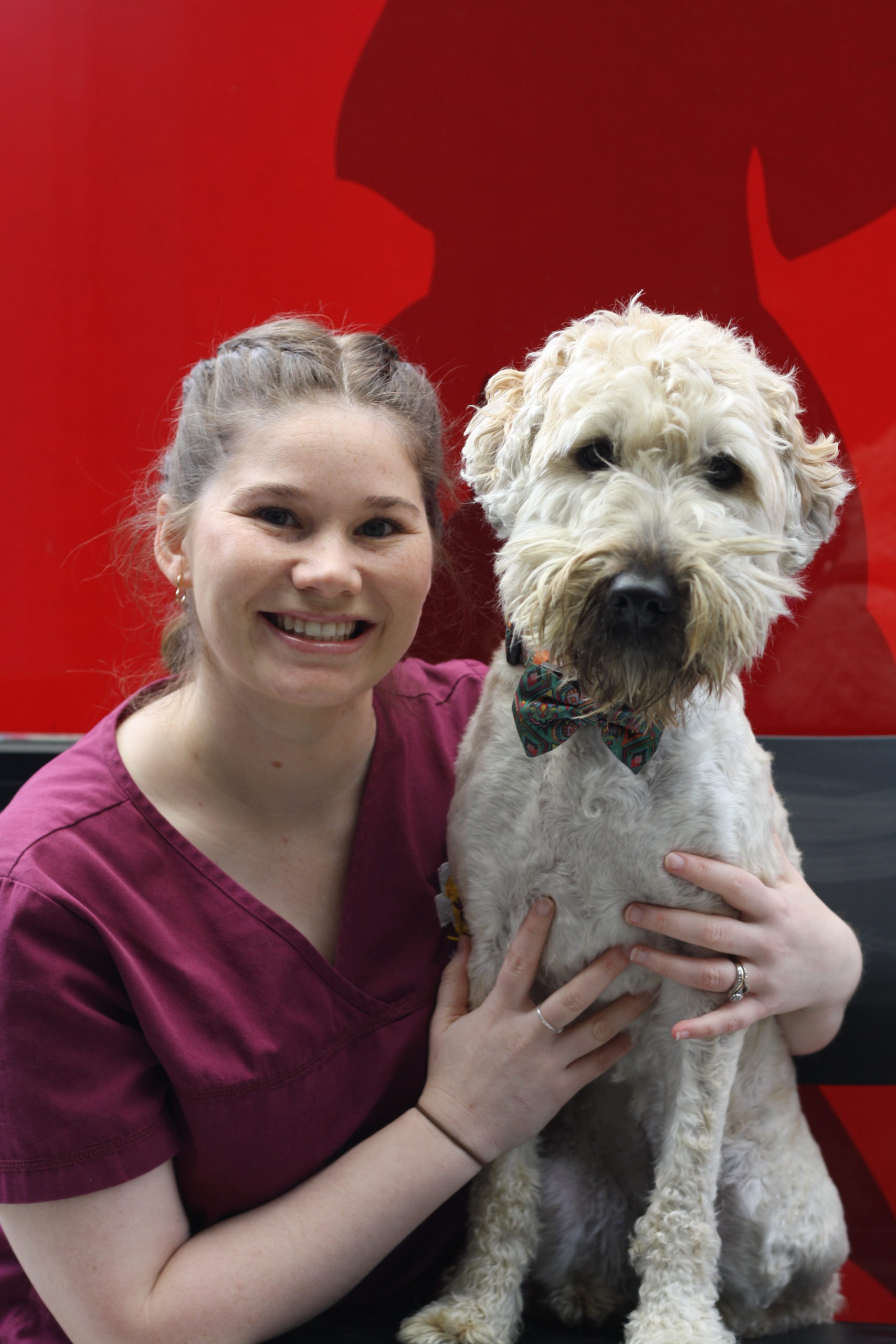 Rachael & Ivy
Senior Veterinary Nurse
Bio
Meet Nurse Rachael!
Rachael began her nursing career in 2011.
Prior to joining the Whitehorse team in 2019 as a Senior Veterinary Nurse, she had been working at another busy general practice clinic for 8 years
Qualifications: Certificate IV in Veterinary Nursing
Special Interests: Rachael enjoys all aspect of veterinary nursing but shows a keen interest in hospital nursing & helping pets return to their optimal health.
Pets: Rachael has a Soft-coated Wheaten Terrier Ivy & a Domestic short-haired Winston – these two are totally head over heels for one another.
Personal Hobbies: Rachael loves spending time with her husband and son, when they have spare time they're knee deep in home renovations.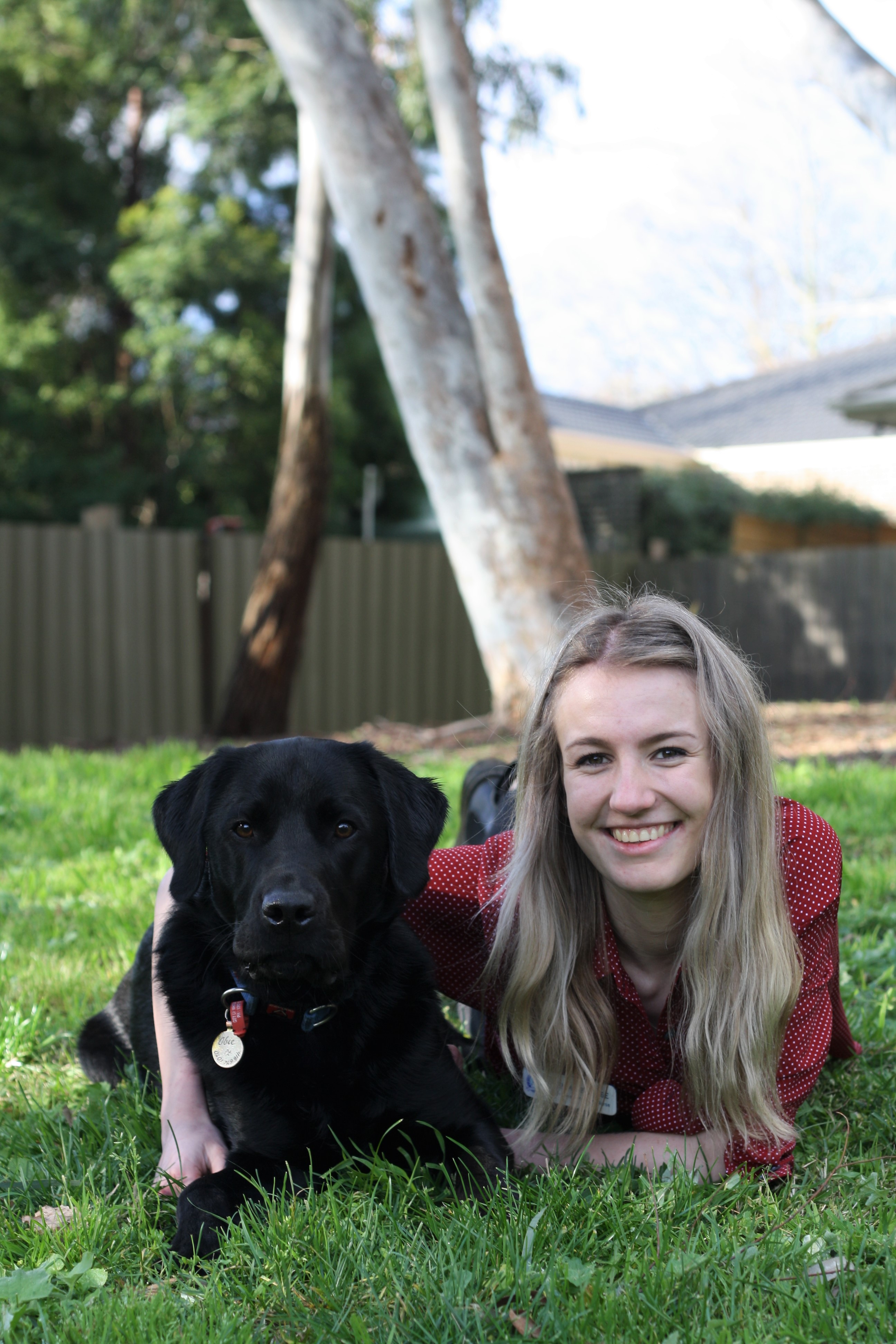 Emma & Obie
Qualified Veterinary Nurse
Bio
Meet Nurse Emma!
Emma began her journey here at Whitehorse in 2018 as a volunteer wanting to gain vital skills to start a career in Veterinary Nursing. The team loved her so much that it was not long after, Emma was offered a trainee position. Emma has now completed her Certificate IV in Veterinary Nursing at Box Hill Institute & is currently studying a Diploma in Science with the hope of getting into Veterinary Medicine in the coming years.
Special Interests: Older animal / geriatric quality of life management (joint health), weight management, aquatic animal care & conservation, animal educationg & management in remotw Australian communities (member of AMRRIC).
Pets: Emma has a sock & bra eating Labrador Obie who has had multiple exploratory surgeries thus far in his short time on this earth, a torti cat name Mushroom (foster fail!) & 4 fish tanks which includes 2 moray eels.
Personal Hobbies: Camping, live music, fish breeding & playing piano.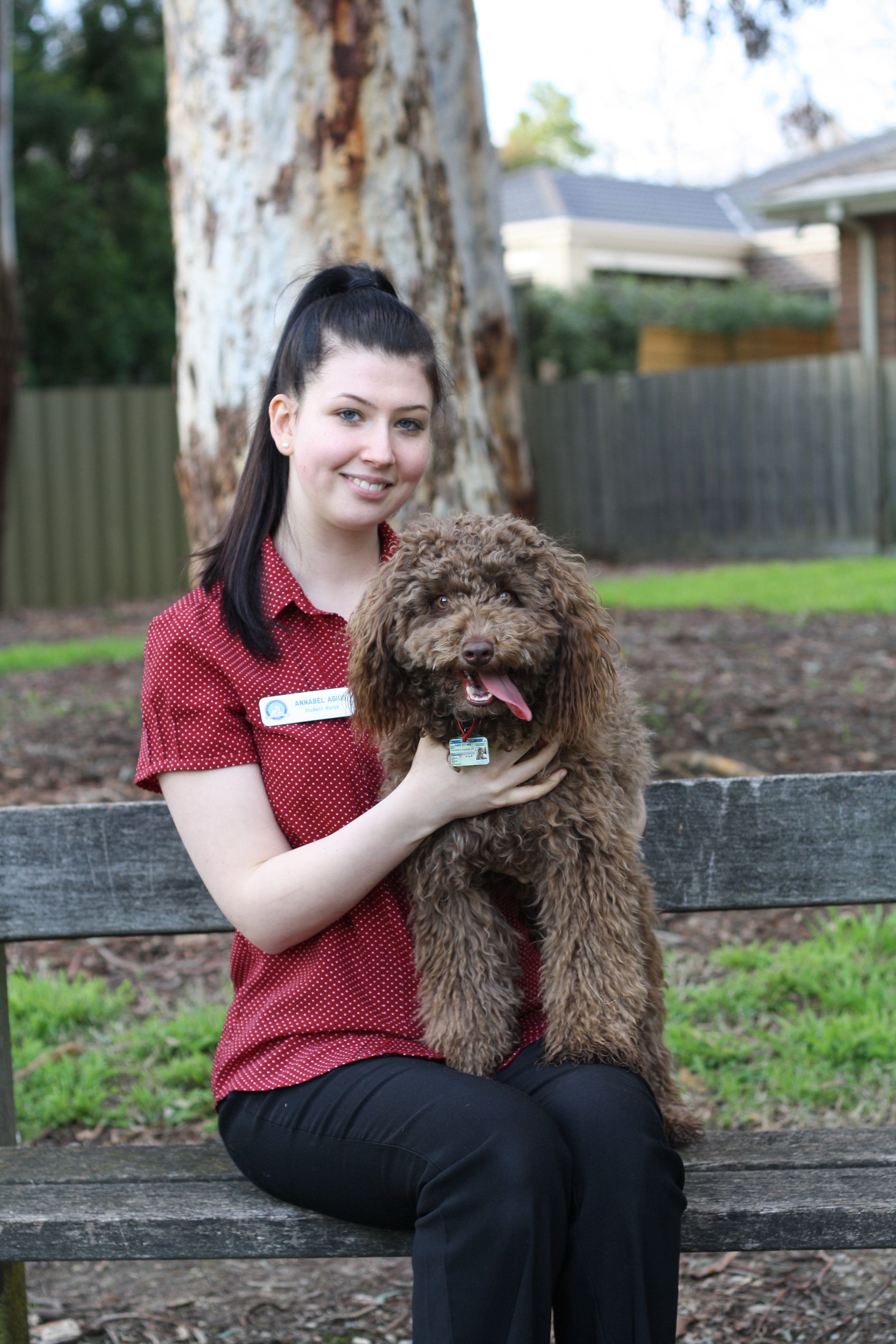 Annabel & Bea
Qualified Veterinary Nurse
Bio
Meet Nurse Annabel!
Annabel began her journey here at Whitehorse as a Veterinary Nurse Placement Student in 2018. Annabel made such an impression that we just had to have her join our team on a permanent basis, she has since completed her Certificate IV in Veterinary Nursing at Box Hill Institute.
Special Interests: All aspects of surgical nursing, pathology & most of all anything reproductive!
Pets: Annabel has an extremely enthusiastic & adorable chocolate labradoodle called Bea PLUS 3 turtles, a Darwin carpet python & 28 year old Blue tongue lizard called Harry.
Personal Hobbies: Annabel enjoys spending her time drawing, socialising with her close group of friends & attending 80's based music concerts – including Queen & Elton John.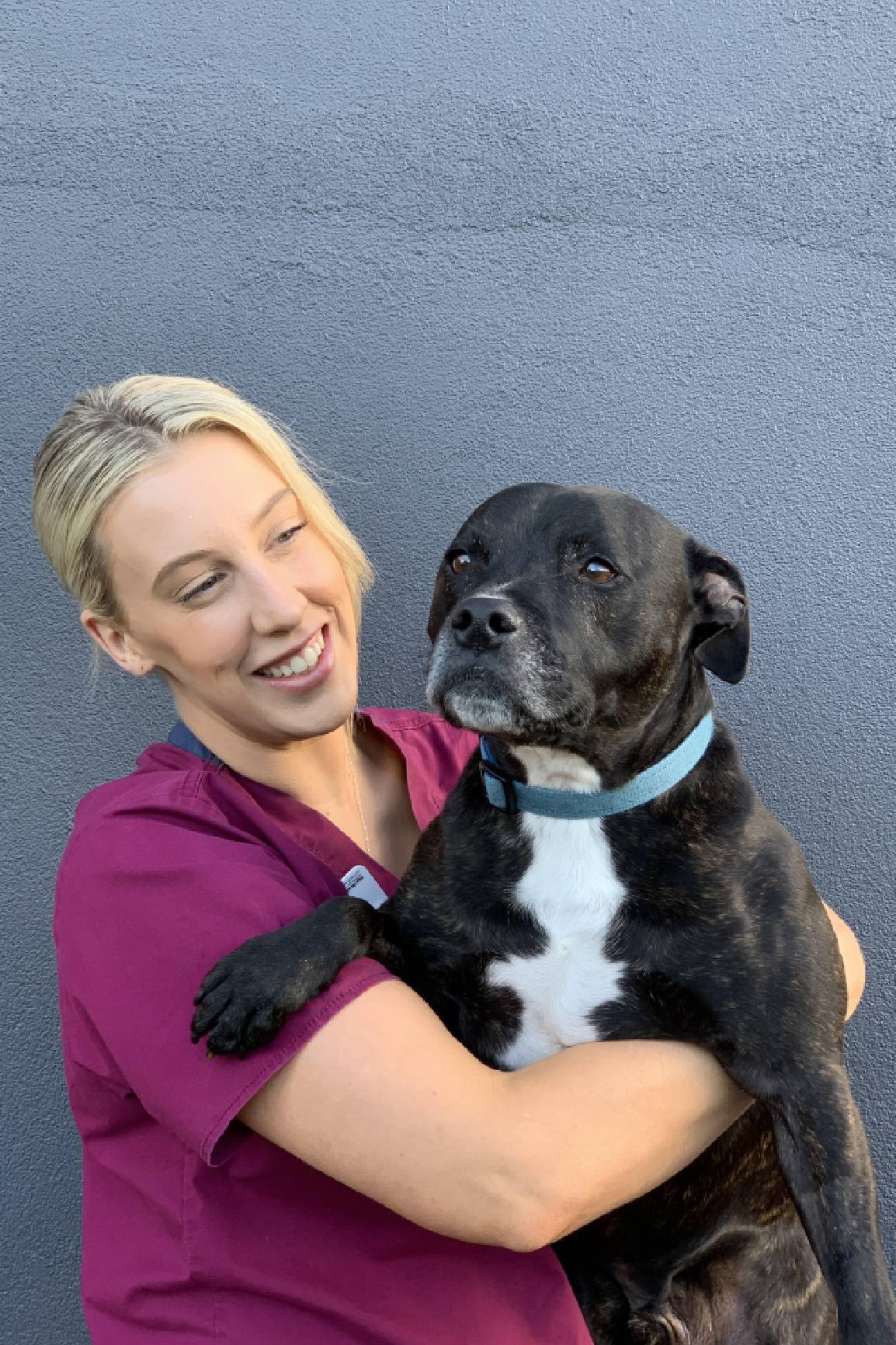 Simone & Bruce
Trainee Veterinary Nurse
Kayla & Rex
Qualified Veterinary Nurse
Bio
Kayla started at Whitehorse in 2021, she joined the Whitehorse Team as a senior nurse of 7 years. Kayla has many years of experience working within a busy reproductive clinic, where she was exposed to emergency caesarean's at all times of the evening!
Qualifications: Certificate IV in Veterinary nursing
Special Interests: Kayla enjoys being an all-rounder, from reception to surgical nursing. She has a strong interest in emergency and critical care nursing as well as surgical nursing. She hopes to further her studies in the future and complete the Diploma of Veterinary Nursing specialising in emergency and critical care.
Pets: Kayla has a 12-year-old Maltese x Pomeranian named Bonkers and two 5 year old Siamese cats named Rex and Sapphire.
Personal Hobbies:  Kayla loves to spend time with her partner and son when she's not working, she also loves getting away camping and fishing.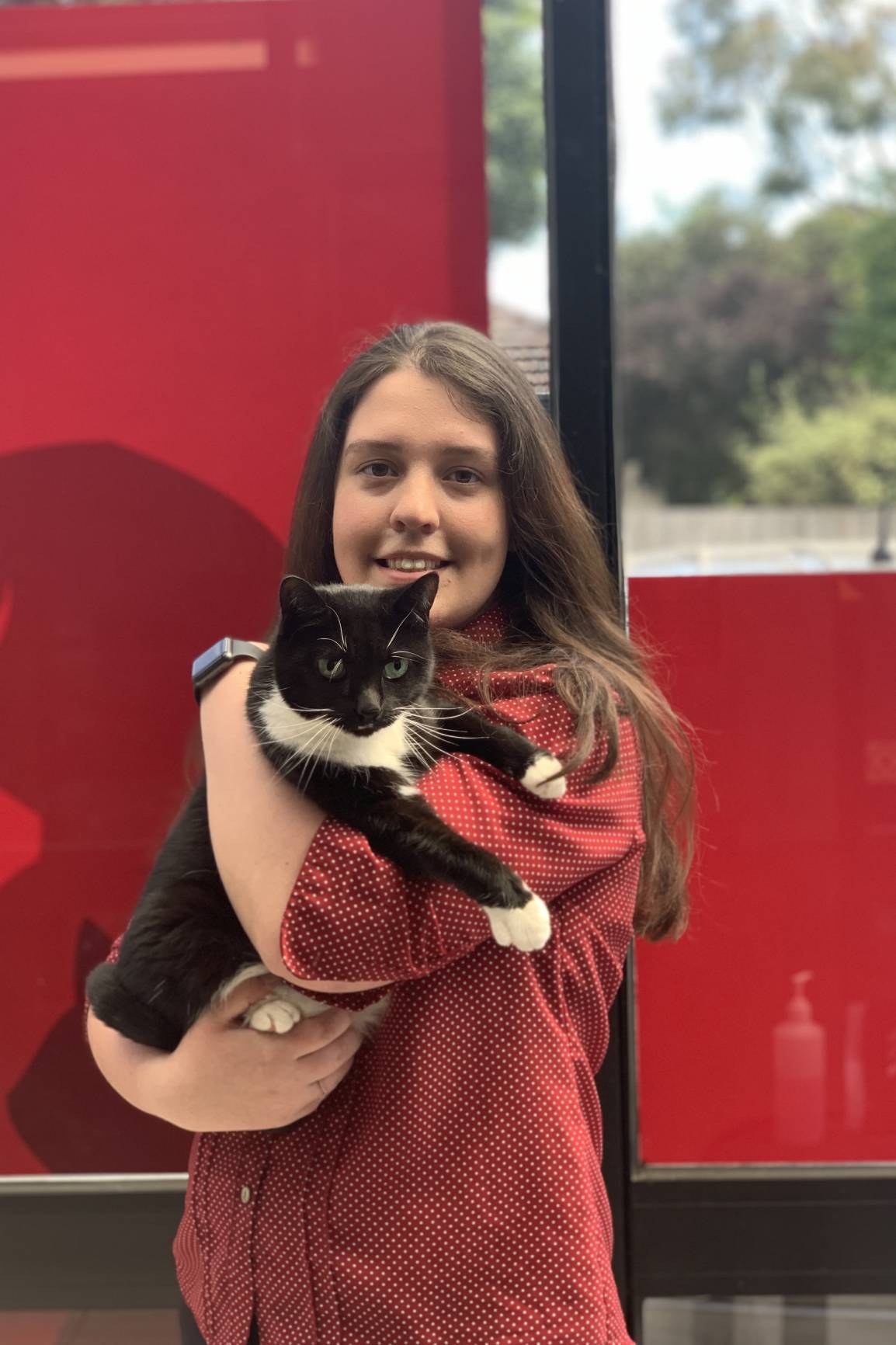 Emily & Rosalie
Trainee Veterinary Nurse
Bio
Meet Nurse Emily
Emily started at Whitehorse in October 2021, she joined the Whitehorse Team as a trainee nurse. Emily came to Whitehorse with experience working within a busy small animal clinic.
Qualifications: Certificate III in Animal Studies specialising in veterinary nursing skills, and is currently studying certificate IV in Veterinary NursingSpecial Interests: Emily enjoys working in reception and surgical nursing. She has a strong interest in surgical cases and seeing your pet's health improve after their stay in hospital
Pets: Emily has a 6-year old Kelpie x Border Collie x New Zealand Huntaway called Hunter and 6-year-old Domestic Shorthair cat called Rosalie
Personal Hobbies:  Emily loves to spend time with her family and friends when she is not working, she also loves horror movies and going to the beach when the weather is warm.
Hanna Gassmann
Trainee Veterinary Nurse
Casey Grenfell
Trainee Veterinary Nurse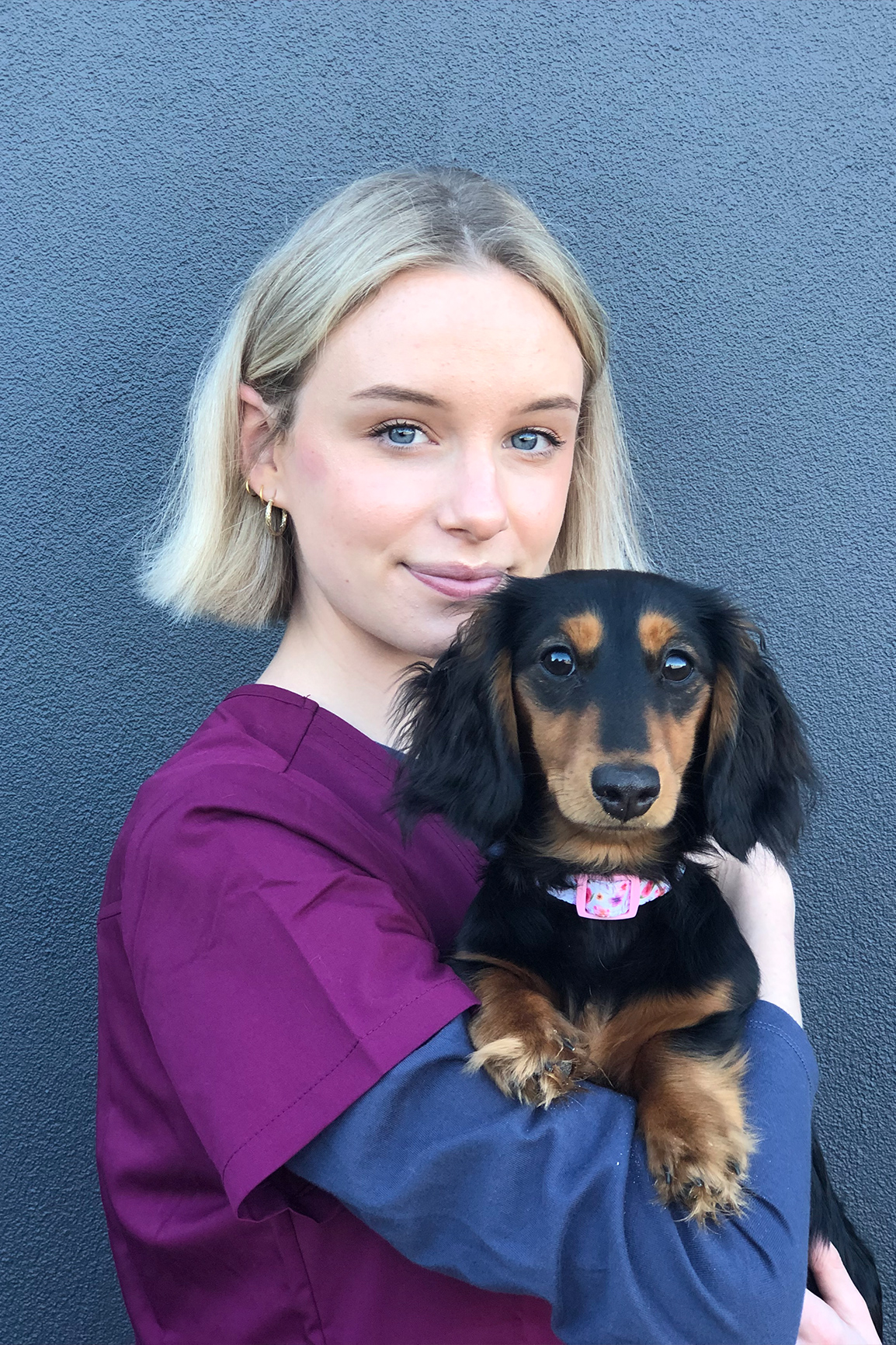 Rose & Rory
Trainee Veterinary Nurse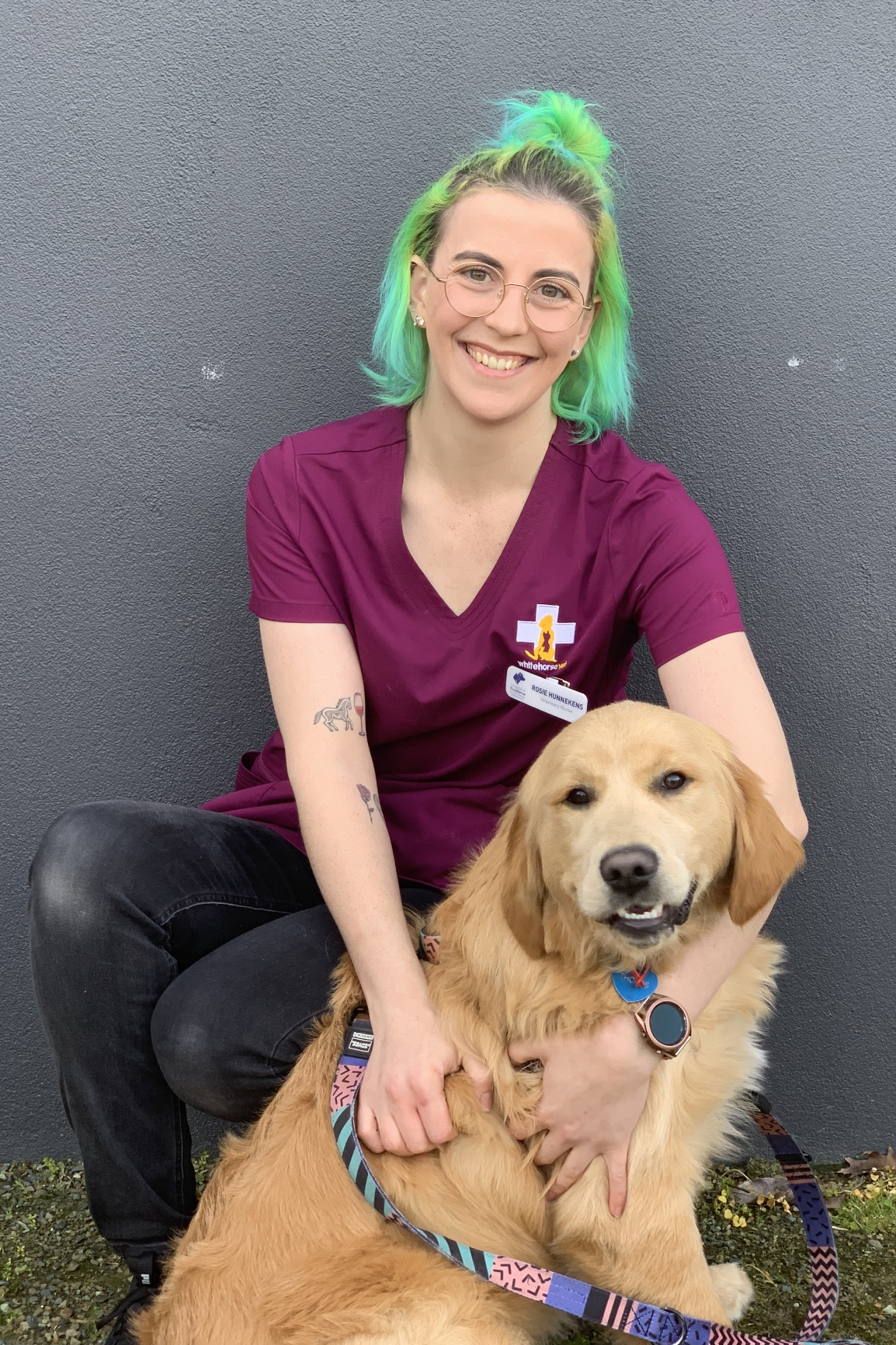 Rosie & Thomas
Trainee Veterinary Nurse
Bio
Rosie joined the Whitehorse team in July 2022.
Rosie came to the team with 3 years' experience as a Veterinary Nurse in a busy small animal clinic. She is studying her Cert IV in Veterinary nursing through ACVN and has also completed a Certificate IV in Companion Animal Services in 2018 through Box Hill TAFE.
Qualifications: Certificate IV in Companion Animal Services 2018. Currently studying Certificate IV in Veterinary Nursing through ACVN
Special Interests: Rosie has a keen interest in Medicine Nursing and Diagnostic imaging.
Pets: Rosie has several pets: Ella, a 13-year-old Labrador X Golden Retriever who loves nothing more than to hang out with a soft toy and her bed; Thomas the Golden Retriever who just turned six months at the end of June, and is a very cheeky boy; Penelope a feisty Domestic Shorthair cat; and Persephone, an Angle Headed Dragon (lizard), who hates everyone.
Personal hobbies: Rosie enjoys dance and gym classes 3 times a week, as well as writing, reading, playing video games, hanging out with friends, and taking the dogs out for walks.
Just off Linden Street you will find our car park designated to our clients. Your pet will be safer with easier and spacious access to the clinic.
Our welcoming reception area provides both pets and their owners access to our friendly and experienced staff. Also used as a spacious waiting room for our Veterinary and Nurse consultations.
Our highly equipped surgical suite is an accredited & sterile environment for all kinds of surgeries ranging from desexing procedures, mass removals, orthopedic surgery, cancer surgery and much more.
Our hospital is equipped with advanced Digital X-ray equipment which helps to provide high quality images of bone and tissue.
Caring for Animals
Whitehorse Veterinary Hospital is dedicated to providing the best possible health outcomes for your pet. We will provide advice and care that aligns with best practice.
Caring for People
We recognise the positive impact pets have on the lives of their owners and endeavour to improve the relationship between owners and their pets.
Caring for the Environment
People and pets have a large impact on the local and global environment. We seek to educate owners on environmentally responsible pet ownership.

Mon-Fri: 8am - 7pm
Sat: 8am - 1pm
(1pm - 3pm Emergency Consults)
Sun: CLOSED