WHY DO CATS TRY TO RETURN TO THEIR OLD HOUSE?
Adapting to household changes are often most trying for cats. Cats are territorial animals and they may have problems accepting a new house as their home.
If the old house is nearby, cats may return and try to take up residence with the new owners . If the move is further away cats may just wander off and get lost.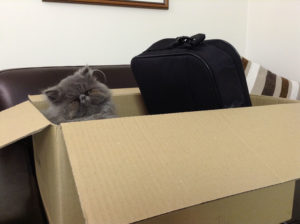 WHAT CAN I DO TO HELP MY CAT SETTLE IN?
Before leaving the old house, your cat microchip details must be updated. New address and any new phone numbers are vital in the circumstance that your pet does get lost. If your pet isn't microchipped, it is very strongly recommended you get one.
On arrival at the new house the cat should be left in its basket or cage until one room has been sorted out and installed with familiar objects. The cat can be confined to this room (with a litter tray provided). To help the cat settle, it should be fed with its favourite meal.
Once the removalists are gone and the house is quiet, check that all doors and windows are shut and allow your cat to explore.
Give your cat extra attention and extra food during the period of settling in. Feed your cat indoors for at least 7-10 days before being let outside.
At first, it should only be let outside before meals so food can be used to lure the cat back inside if it wanders too far.
Cats are much more likely to fight in a new territory so careful observation and curfew attention is vital, especially in the first few weeks.
If possible, try and avoid having builders working in the house during the initial settling period. Cats don't appreciate this and it will inevitably make readjustment more difficult.
HOW LONG WILL IT BE BEFORE I CAN SAFELY LET MY CAT OUTSIDE ALONE?
This varies. Some cats take only a few days to settle down whilst others may take three weeks or more. Outdoor cats with a wide experience of change tend to cope best but even they should be kept in for a week to give them a chance to learn about their new home.
MY CAT IS VERY NERVOUS. ARE THERE ANY SPECIAL PRECAUTIONS I SHOULD TAKE?
It may be wise to board particularly nervous cats in a friendly cattery before packing up of the old house starts. Keep them there until everything is unpacked and positioned in the new house.
Alternatively, ask our friendly staff about an anti-stress pheromone spray to promote a calm state in cats.
MY CAT KEEPS RETURNING TO MY OLD HOUSE, WHAT CAN I DO?
This happens because the bond with the new home is not sufficiently established. It may take weeks or months before the cat can safely be let out unattended.
Keep the cat indoors for a month. It may help to feed the cat small meals several times a day.
When your first let your cat out, you should restrict access to food for 12 hours so that it is quite hungry. For the first two weeks it should only be let out once a day and be called in no longer than 30 minutes and fed immediately. Be ready to shake the food tin to coerce your cat back inside.
Explain to the new owners of your house and old neighbors that your cat may come back, and ask them not to feed or encourage it.
Moving house can be  just as traumatic for the indoor cat because it involves a complete change of personal territory. Gradual introduction into one room at a time with lots of TLC will help to reduce the stress of the upheaval.